Rouhani's office releases report saying 49% of Iranians oppose headscarf law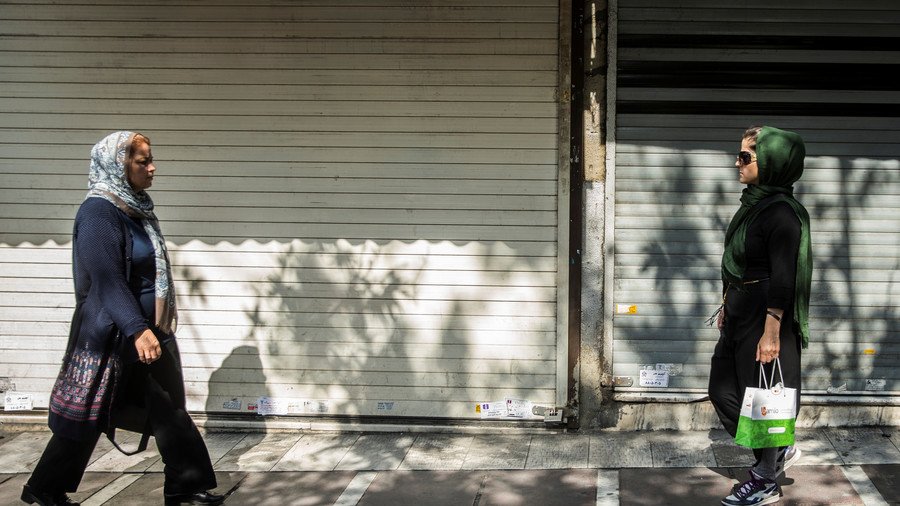 Iran has released a three-year-old study which revealed that 49 percent of the country's citizens are against obligatory headscarves for women. It comes after protests against the existing law led to the arrest of 29 women.
The report – released on Sunday by the Iranian Center for Strategic Studies, a research arm for President Hassan Rouhani – compares data from 2006, 2007, 2010, and 2014. The most recent poll, which surveyed 1,167 respondents, found that 49.2 percent of participants believed wearing a headscarf should be a private matter.
In addition, the 2014 poll found that just 39 percent of respondents believed the government should press charges against women who were caught without a hijab in public. That number was significantly lower than in 2006, when about half of the population believed charges should be filed in such cases.
The report's release comes after women across the country protested against the country's mandatory headscarf law last week, with images on social media showing Iranian women taking off their hijabs in public, many of them waving them on the end of sticks in the middle of busy streets. A total of 29 women were arrested as a result of the campaign, Tasnim news agency reported, citing police.
The trend of waving headscarves first began in December with 27-year-old Vida Movahed, who stood without her hijab on a utility box in Tehran, proudly waving it in the air. She was detained and later released.
Pictures of protesters' bare heads were widely shared on the Facebook and Twitter pages of the 'My Stealthy Freedom' campaign, which is rallying for Iranian women to have the right to choose whether or not to wear headscarves.
The report's release appears to pit Rouhani against Iran's hardline judicial authorities, who have called the anti-headscarf demonstrations "childish" and insist the majority of Iranians support mandatory hijabs for women. They have also called for harsher measures against those protesting against wearing headscarves. Meanwhile, Rouhani – considered a moderate compared to Iranian hardliners – has called for more freedoms for Iranians since being elected president in 2013.
According to Iran's Islamic law, which was imposed after the 1979 revolution, women are required to cover their hair with a hijab and wear long, loose-fitting clothes. Violators are publicly admonished, fined, or arrested.
You can share this story on social media: