Demolition Duterte: Philippines leader bulldozes luxury cars to send message (PHOTOS, VIDEO)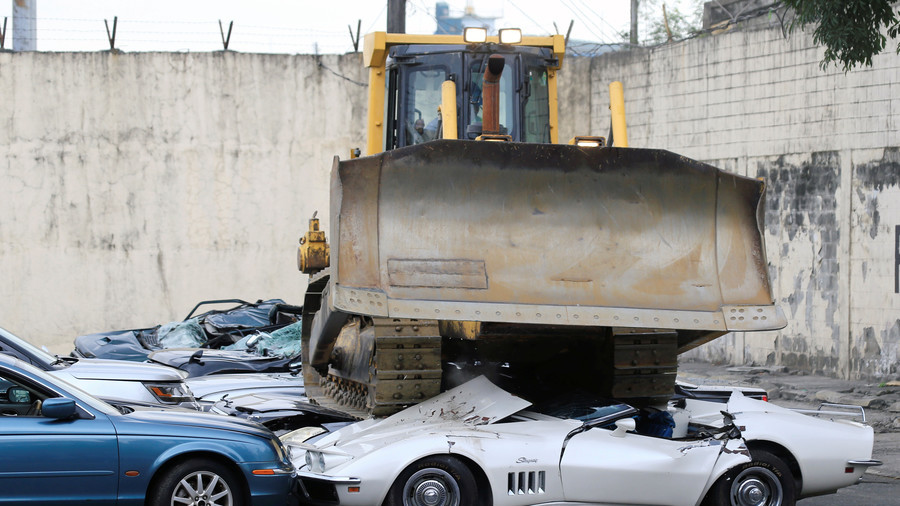 Philippines leader Rodrigo Duterte hammered home his new policy on car smuggling by overseeing the demolition of dozens of seized luxury vehicles worth almost $1.2 million.
Some 29 smuggled high-end vehicles, including models of BMW, Jaguar, Mercedes Benz and Corvette, were simultaneously crushed by road rollers at three of the country's ports on Tuesday.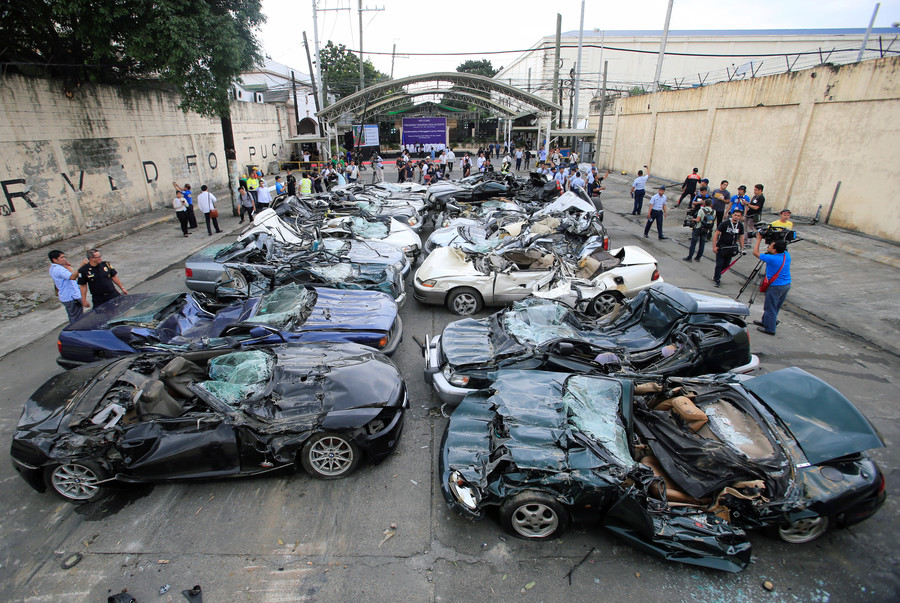 The majority of cars were destroyed at the Bureau of Customs (BOC) grounds in Manila where Duterte was present for the ceremonial condemnation. Tuesday also marks the celebration of the116th founding anniversary of the Bureau of Customs.
READ MORE: Duterte offers tourists 42 virgins in mockery of ISIS recruitment propaganda (VIDEO)
Seven more vehicles were bulldozed in Davao City and three in Cebu.The cars were worth at least US$1.19 million in total.
The dramatic wrecking sends a clear message to smugglers by demonstrating Duterte's determination to crack down on unscrupulous vehicle importers.
"You want imported cars? Pay import duties first," Duterte said last week, announcing the new strategy."It will now become policy to bulldoze smuggled luxury vehicles," a presidential spokesman confirmed.
READ MORE: Duterte orders army to 'shoot him' if he becomes dictator
The new practice marks a clear departure from the usual procedure of auctioning smuggled vehicles to generate additional revenue for the government. Duterte said that disposing of the confiscated cars at an auction would only give the smugglers an opportunity to secure them legally.
The BOC recently seized P24.3 million ($472,149) worth of used luxury cars and overweight steel products from Australia, the United Arab Emirates (UAE), and China at the Manila International Container Port. Two Lamborghinis and a Ferrari were among the luxury cars confiscated in the November 2017 seizure, reported the Manila Bulletin.

Think your friends would be interested? Share this story!
You can share this story on social media: