Take our explanation about war on drugs or 'go to hell' – Duterte to EU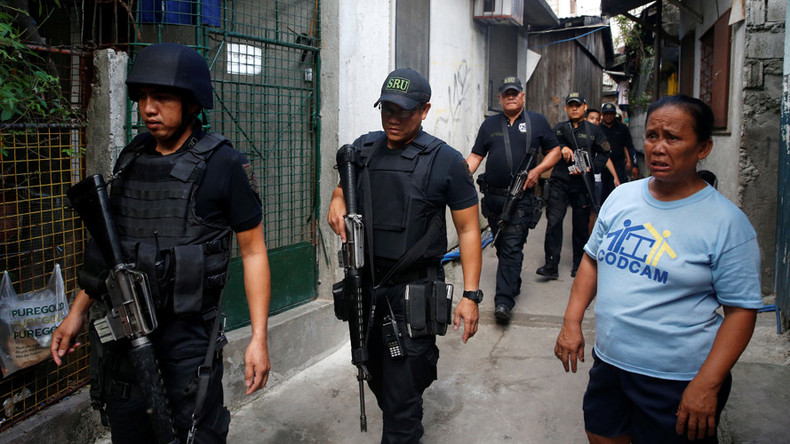 EU officials criticizing the Philippines' war on drugs and the killings related to it can either accept the official explanation from Manila, or go to hell, leader Rodrigo Duterte said.
Duterte delivered the fiery message on Wednesday while commenting on the recently published annual EU report on human rights and democracy. The paper claimed that a culture of impunity prevails and the human rights situation in the Philippines deteriorated rapidly in the last six month of 2016. Duterte became president of the country in June 2016.
READ MORE: Eating Islamist livers & 'Chubby Kim Jong-un': Duterte's most bizarre quotes
"Pardon me, Senator Angara. I appointed him as an envoy to EU. I've been trying to explain to them, but I said to them, if they listen to you, sir, fine. If not, they can all go to hell," Duterte said regarding his advice for the Philippines envoy to the EU, lawyer and former Senator Edgardo Angara. "That's what I said to Obama, you go to hell. Why should I not tell him that? He was berating me in public," Duterte added.
The Philippines leader targeted former US President Barack Obama several times in bitter personal attacks, including calling him a "son of a b*tch" in September 2016. Duterte later backtracked on the scandalous comment, saying it was directed at a reporter.
The brutal war on drugs waged by President Duterte has drawn numerous accusations of human rights violations and extrajudicial killings from the international community. Duterte has repeatedly rejected the claims, stating that all of the victims of the war were guilty. He also said he would tell God to ask the victims of the war on drugs, who are in hell, why they were killed.
"My God doesn't allow youngsters to be raped or killed. My God doesn't allow shabu [methamphetamine] to thrive. My God says I should do something," the president said, as quoted by the Philippines Star. "If I kill innocent people, what will I get? Do you think God will like it?"
The years of working as prosecutor would never allow him to commit extrajudicial killings, he added.
Last week, Duterte vowed to shoot criminals personally if law enforcement couldn't do the job. "Those who rape children, who rape women, those sons of… if you don't want the police, I am here now. I will shoot them. That's true! If nobody would dare it, I will pull the trigger," AFP quoted Duterte as saying.
You can share this story on social media: