North Korea got missile parts through Berlin embassy, says German security chief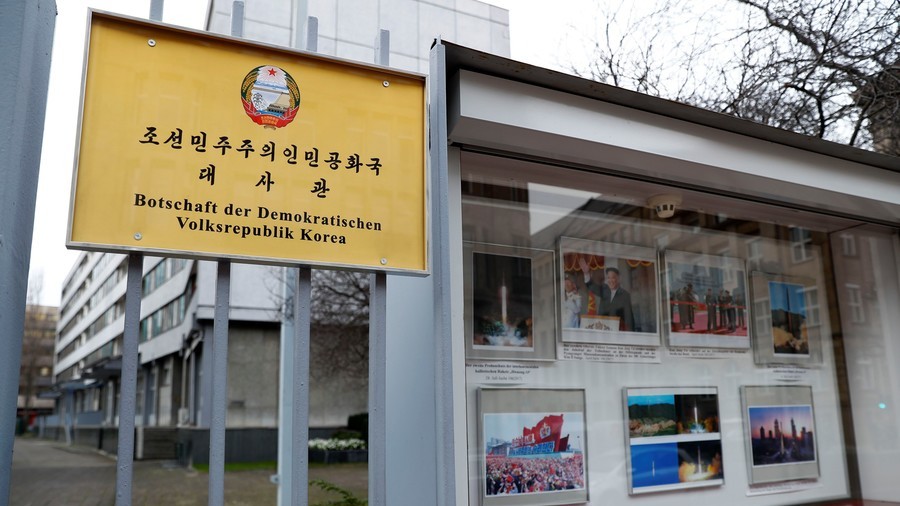 North Korea obtained materials for its arsenal of ballistic missiles through its embassy in Berlin, Germany's top intelligence chief has revealed.
Hans-Georg Maassen, head of Germany's domestic intelligence agency (BfV), is set to detail how Kim Jong Un's administration has attempted to buy high-tech parts for its weapons in a new documentary about Kim Jong Un. Preview information of the film suggests that North Korea used offices in Germany to facilitate its clandestine nuclear and weapon procurement operations.
An investigation by the German broadcaster NDV found that the intelligence services found evidence of procurements as recently as 2017, according to a press release.
READ MORE: 'They're coming after us': Maxine Waters says Russia, China & N. Korea ganging up on US
"We found out that there were procurement activities from there, in our view, with regards to the rocket program, and partly the nuclear program," Massen told NDR. "If we find such things, we prevent it. But we cannot guarantee that this can be detected and prevented by us in all cases."
It's unclear what kind of technology was bought by the secretive state. However, Deutsche Welle reported that a North Korea diplomat tried to obtain a "gas-monitor" in 2014. It is thought the monitor could be used in the creation of chemical weapons.
Last year, North Korea carried out a number of long-range ballistic missile tests. Han Tae Song, North Korea's ambassador to the United Nations, recently said the tests were necessary to "perfect a national nuclear force."
READ MORE: N. Korea would see blanket ban of oil supplies as declaration of war – Russian envoy
"I am proudly saying that DPRK's nuclear force is capable of frustrating and countering any nuclear tests from the US and it constitutes a power deterrent that prevents the US from starting an adventurous war," he added. RT.com has contacted the BfV for further comment.
You can share this story on social media: