N. Korea: Trump taking dangerous step to nuclear war by seeking naval blockade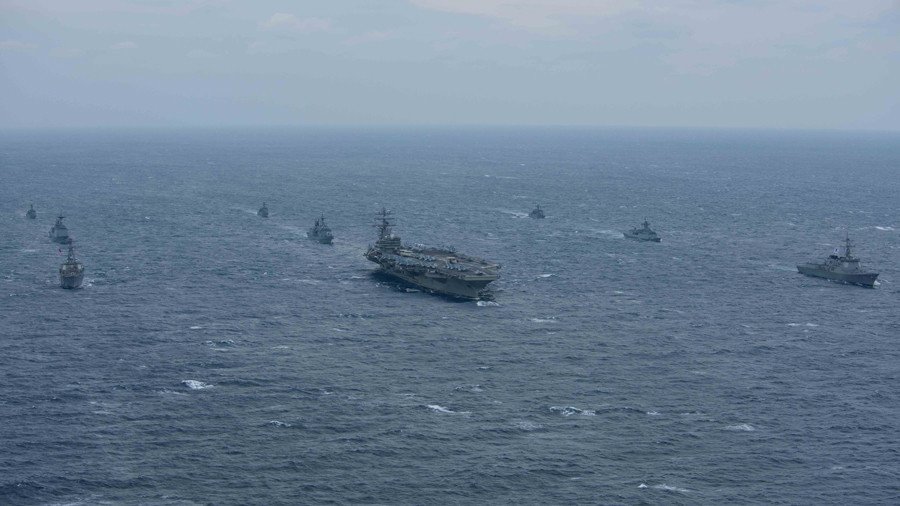 US President Donald Trump is taking an "extremely dangerous" and "big step" towards nuclear war by seeking a naval blockade, North Korea has stated, according to the official KCNA news agency.
Pyongyang also said it will take "merciless self-defensive" measures against any blockade, as it would consider such a move an "act of war." The North Korean government also believes any blockade would be a "wanton violation" of its sovereignty and dignity, KCNA reported, citing a foreign ministry spokesman.
US Secretary of State Rex Tillerson previously mentioned the "right to interdict maritime traffic transporting goods" to and from the North, following Pyongyang's latest intercontinental ballistic missile (ICBM) test on November 29.
Pyongyang also lashed out at the possible US move in a commentary on Sunday in the communist party newspaper Rodong Sinmun.
Earlier on Thursday, Russia's President Vladimir Putin warned that North Korea now finds itself in a position where it "doesn't see any other way for self-protection rather than developing weapons of mass destruction and missile technologies." Having reiterated that Moscow in no way supports Pyongyang's nuclear program, the Russian leader stressed that the Kremlin calls for steps by all sides towards a peaceful solution.
Both the US and North Korea "should stop fueling tensions," Putin told international media at his annual press conference, adding that everyone should be "extremely cautious" about the situation on the Korean peninsula. "One launch from North Korea will be enough for catastrophic consequences," the president warned.
The comments come just one day after State Department spokesperson Heath Nauert appeared to backtrack on statements made by Tillerson, in which the secretary of state said the US was "ready to have the first meeting" with Pyongyang "without preconditions." Nauert said on Wednesday that North Korea would have to suspend its weapons tests before such talks could take place.
Earlier this month, Moscow said it was ready to help facilitate talks between Washington and Pyongyang, with Foreign Minister Sergey Lavrov stating that "North Korea wants to talk to the US about its own security assurances."
Russia and China have proposed a so-called "double freeze" plan which would see the US suspend joint drills with South Korea in exchange for Pyongyang halting its missile and nuclear tests. However, that plan was swiftly rejected during the summer by the US, which asserted its right to conduct military exercises with its ally South Korea.
You can share this story on social media: