Pyongyang seeks direct dialogue with Washington, Moscow ready to help – Lavrov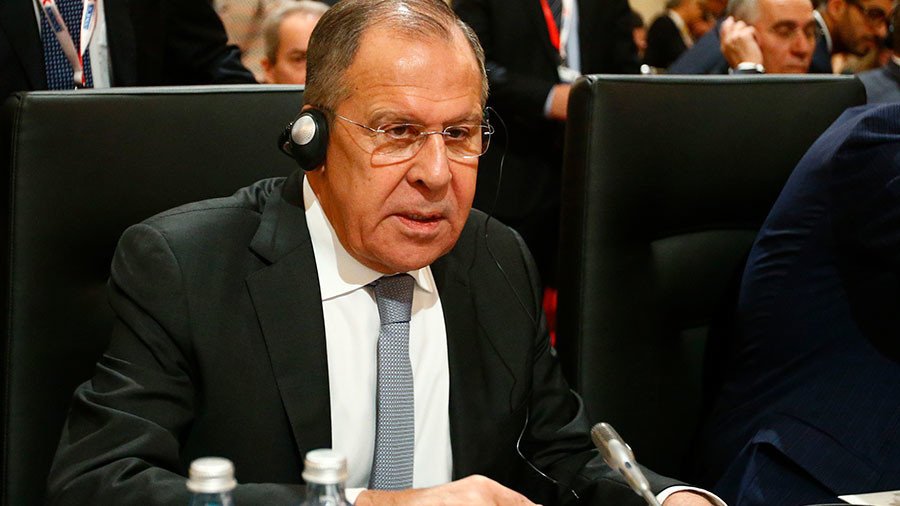 North Korea wants to engage directly with the US to assure its security, Russia's foreign minister has revealed. Sergey Lavrov said he has briefed US Secretary of State Rex Tillerson on the developments and that Moscow is ready to "facilitate such talks."
"We know that, above all, North Korea wants to talk to the US about its own security assurances," he said in Vienna following his meeting with Tillerson. "Russia is ready to take part in facilitating such talks." Lavrov and Tillerson spoke on the sidelines of an Organization for Security and Cooperation in Europe (OSCE) meeting.
Lavrov reiterated that all parties involved in the Korean crisis should "break the vicious cycle of confrontation, reckless schemes and sanctions" and engage in meaningful dialogue instead. He also pointed to American military exercises near the Korean Peninsula and Washington's aggressive rhetoric, which he said only leads to a further escalation of tensions. This is "unacceptable," Lavrov made clear.
Earlier Thursday, the head of Russia's Senate's Foreign Affairs Committee, Konsantin Kosachev, met with North Korea's Ambassador to Moscow to discuss the situation on the peninsula. Following his exchange with Kim Young Jae, Kosachev said Pyongyang has absolutely no interest in ratcheting tensions, not to mention starting a full-blown military conflict. But, Kim added, Pyongyang "does not fear war" either.
Kosachev said a viable way to resolve the crisis is an all-in dialogue between relevant parties and joint efforts aimed at lowering tensions. "We are absolutely not interested in the escalation of tensions, in any military action," Kosachev told the Interfax news agency following the meeting. Russia "will do everything it can to prevent this escalation," he added.
Both Lavrov and Kosachev once again referred to the so-called "double freeze" initiative put forward by Russia and China soon after tensions heightened in early September. The plan envisages the US and its allies stop all major military exercises in the region in exchange for Pyongyang suspending its nuclear and ballistic missile program. The initiative, however, has been spurned by Washington, with the US envoy to the UN, Nikki Haley, denouncing it as "insulting."
On Wednesday, the North Korean foreign ministry said US military drills near the Korean Peninsula as well as Washington's belligerent rhetoric make an outbreak of war in the region inevitable. "The remaining question now is, when will the war break out," the ministry's spokesperson told the North Korean state news agency KCNA Wednesday.
On Monday, the US launched massive air drills together with South Korea. The five-day exercises, scheduled to last until December 8, involve a total of 12,000 personnel and over 230 military aircraft. Pointedly, the maneuvers particularly simulate attacks on Pyongyang's nuclear and missile installations while claiming it to be "defensive."
In late November, North Korea conducted yet another missile test, claiming it had successfully launched a new type of intercontinental ballistic missile capable of striking the US mainland.
You can share this story on social media: