Netanyahu & Putin to discuss better coordination on Syria & Iran in Moscow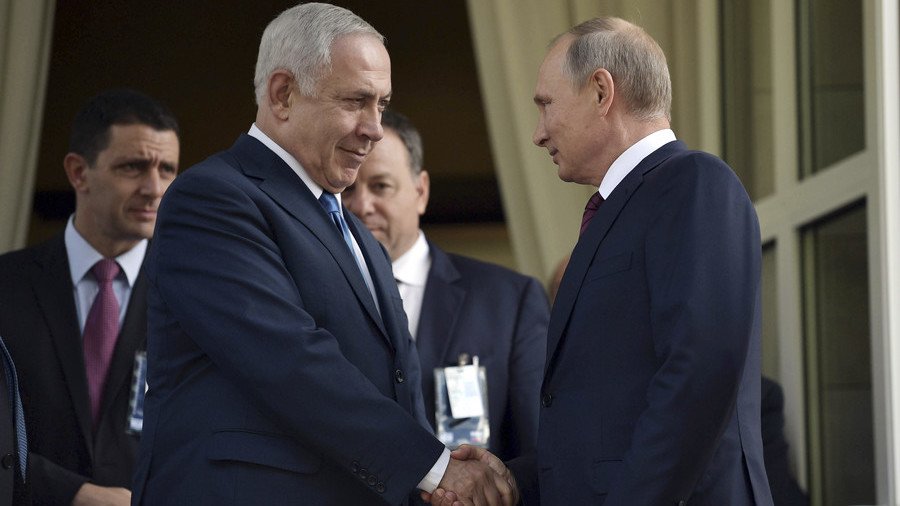 Israeli Prime Minister Benjamin Netanyahu will meet Russian President Vladimir Putin in Moscow Monday to discuss ways to strengthen coordination between the Russian and Israeli air forces in order to avoid confrontation in Syria.
Netanyahu's visit to Russia is scheduled to last only five hours. According to the Kremlin, the two leaders plan to discuss"Russian-Israeli cooperation in trade, economic, cultural and humanitarian areas as well as some pressing international and regional issues, including the situation in the Middle East and in Syria."
The two leaders will exchange views on ways of "strengthening coordination between the Israeli Army and the Russian armed forces on Syria, as well as a whole series of issues important for the security of Israel," Netanyahu said, as cited by TASS.
According to the Jerusalem Post, the Israeli prime minister is also set to discuss Iran's involvement in Syria.
Earlier this month Israel launched three attacks on military targets in Syria, using jets and ground-to-ground missiles, the Syrian army reported. Damascus also claimed that it has shot down one Israeli jet and one missile. "We have a longstanding policy to prevent the transfer of game-changing weapons to Hezbollah in Syrian territory. This policy has not changed. We back it up, if necessary, with action," Netanyahu said at an event with NATO officials in Jerusalem, as quoted by the Times of Israel.
In November, Netanyahu said he made it crystal clear to Washington and Moscow that Israel would continue to "act in Syria." His statement came after Donald Trump and Vladimir Putin reaffirmed joint efforts to support a ceasefire in the Syrian region bordering Israel and Jordan. Tel Aviv has been pushing the US and Russia to deny Iran, Hezbollah, and Shia militias any permanent bases in Syria, and to keep them away from the border with the Golan Heights.
"We are controlling our borders, we are protecting our country and we will continue to do so," Netanyahu said in remarks to members of his right-wing Likud party, as quoted by Reuters. "I have also informed our friends, firstly in Washington and also our friends in Moscow, that Israel will act in Syria, including in southern Syria, according to our understanding and according to our security needs," he stated.
READ MORE: Israel strikes Syrian 'military targets' near Damascus – reports
Last month, the Israeli Defense Forces launched several missiles at a strategic target close to Damascus, with Israeli and Arab media reporting it as an airstrike. Syrian state TV said "military positions" were targeted by surface-to-surface missiles.
Israel had previously carried out airstrikes targeting Syrian territory, claiming to be targeting positions of the militant group Hezbollah or allegedly retaliating to stray projectiles that occasionally cross the border into the Israeli-occupied side of the Golan Heights.
Things went wrong in November, when an Israeli attack hit a copper factory in the Syrian province of Homs, prompting Damascus to urge condemnation of Israel's actions at the UN.
Israeli officials have long accused Iran of trying to establish a military foothold in Syria, where Tehran has been supporting Damascus' fight against Islamic State (IS, formerly ISIS) and other terrorists. According to Netanyahu, however, the goal is "using Syria as a base from which to destroy Israel."
Additionally, the two leaders' agenda includes a visit to the Jewish Museum and Tolerance Center, where they will take part in the events relating to International Holocaust Remembrance Day and the anniversary of the complete lifting of the Nazi siege of Leningrad.
The Russian president and the Israeli prime minister last met in the Russian Black Sea resort of Sochi on August 23, 2017. On March 10 of last year, they held talks in Moscow.
During his terms in office as prime minister – in 1996-1999 and from 2009 till now – Netanyahu has visited Russia 12 times.
You can share this story on social media: