Israel will continue 'acting in Syria', Netanyahu tells US & Russia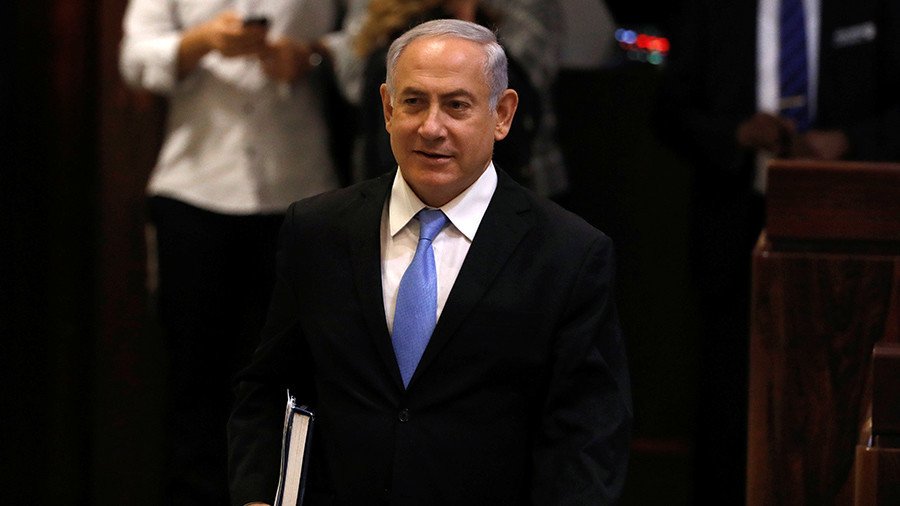 Israeli PM Benjamin Netanyahu says he has made clear to the US and Russia that Tel Aviv will continue to "act in Syria." It comes after Donald Trump and Vladimir Putin reaffirmed joint efforts to support a ceasefire in the Syrian region bordering Israel and Jordan.
"We are controlling our borders, we are protecting our country and we will continue to do so," Netanyahu said in remarks to members of his right-wing Likud party Monday, as quoted by Reuters. "I have also informed our friends, firstly in Washington and also our friends in Moscow, that Israel will act in Syria, including in southern Syria, according to our understanding and according to our security needs."
His comments come after Trump and Putin released a joint statement Saturday, stating that Washington and Moscow had reaffirmed their joint efforts to stabilize Syria as its civil war continues to abate. This includes the expansion of a truce in the southwestern Syrian region which borders Israel and Jordan.
Netanyahu's remarks follow that of the country's regional cooperation minister Tzachi Hanegbi, who expressed similar sentiment a day earlier. Israel has "set red lines and will stand firm on this," he said Sunday.
Tel Aviv has been pushing Washington and Moscow to deny Iran, Hezbollah, and Shia militias any permanent bases in Syria, and to keep them away from the border with the Golan Heights. It comes as Damascus aligned forces gain ground while helping the Syrian government battle the Sunni-led rebels.
Meanwhile, a US government official said Monday that Russia agreed "to work with the Syrian regime to remove Iranian-backed forces to a defined distance" from the Golan Heights border with Israel. The distance would range from as little as 5-7 kilometers (3-4 miles) to around 30 kilometers (18 miles), depending on current rebel positions in the Syrian controlled area of the Golan Heights, the official told Reuters on condition of anonymity. An Israeli official, briefed on the situation, said the move is aimed at keeping rival factions away from each other, but would also keep Iranian-linked forces away from the Israeli side of the disputed Golan Heights.
READ MORE: Putin: Joint Russia-Turkey-Iran effort on Syria bears fruit, violence down
Israel's military says it has carried out around 100 strikes in Syria. Those have targeted suspected Hezbollah or Iranian arms depots, or have been in retaliation for shelling from the Syrian-held Golan Heights.
You can share this story on social media: