North Korea reschedules army anniversary, may hold parade on Winter Olympics eve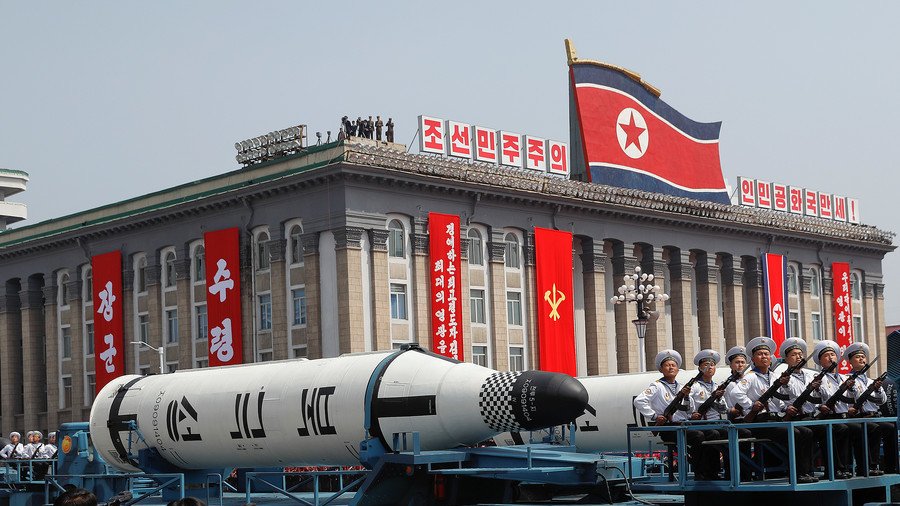 North Korea will mark the founding anniversary of its army the day before the Winter Olympic Games open in South Korea in a muscle flexing move that may put a damper on Seoul's hopes for a "peaceful" event.
North Korean state media confirmed that the 70th anniversary of the Korean People's Army (KPA) would be celebrated on its official date, February 8, instead of April 25 – the date it has been marked on since 1978.
READ MORE: N. Korea possesses 'powerful & reliable' deterrent to counter any nuclear threat – Pyongyang
The KCNA didn't specify details of the planned celebration, however a South Korean government official, cited by Yonhap News, reported seeing the mobilization of around 13,000 troops and some 200 pieces of equipment near an airport in Pyongyang, in what appears to be preparation for a large-scale military parade.
An invitation for February 8 events has been issued to defense attachés, deputies, and spouses from the DPRK according to NK News. It requests foreign defense attachés "attend festival functions held in Pyongyang on the occasion of 70th anniversary of the transformation of the Korean People's Army into a regular revolutionary armed forces."
While not yet officially confirmed, speculation is rife that there is high probability of a large scale military parade taking place on the day.
Last year's military spectacle sent a message to the rest of the world as it showcased new types of military equipment, including prototype intercontinental ballistic missiles (ICBMs) allegedly capable of reaching mainland US.
The Winter Olympics is scheduled to start on February 9 and run through February 25. Earlier the month the US and South Korea agreed to delay military drills until after the games.
READ MORE: North Korea to send 22 athletes to compete in 3 sports at 2018 Olympics in South Korea – IOC
The sporting event has helped in bringing about a thaw in relations between the two Koreas. North and South Korea have agreed to make a joint entrance under a unified Korean peninsula flag at the opening ceremony. They have also agreed to send a combined women's ice hockey team while North Korea will be represented by 22 more athletes
South Korean President Moon Jae-in said Monday the Olympics offer a "precious chance to open the door" to talks to resolve the nuclear issue and establish peace on the peninsula.
Like this story? Share it with a friend!
You can share this story on social media: