13 die after massive landslide throws bus into abyss in Colombia (PHOTO, VIDEO)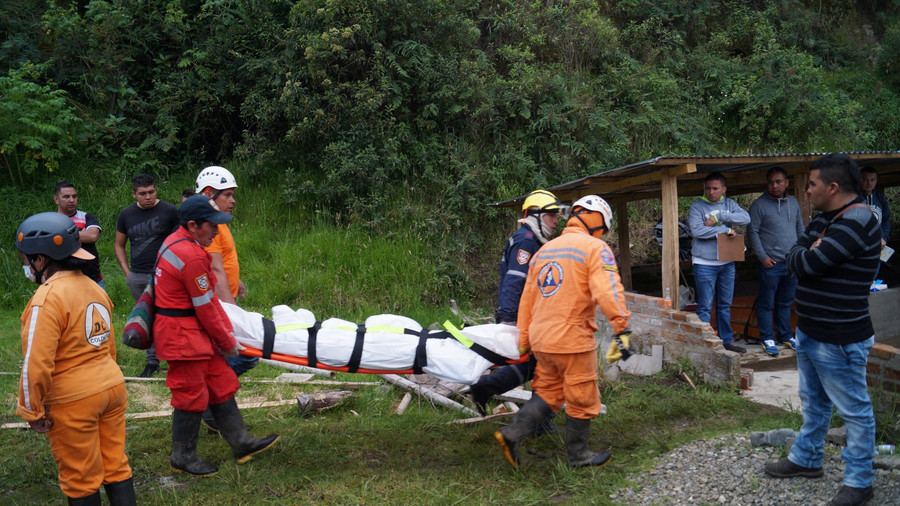 At least 13 people died when the bus they were traveling on was pushed by a landslide into a deep abyss off a highway in southwestern Colombia, authorities announced. Rescuers only managed to reach it the next day.
About 5,000 cubic meters (176,000 cubic feet) of rocks and mud unexpectedly slid off mountainous terrain in the Nariño region of the country, taking with it a small bus.
READ MORE: At least 48 killed as bus plunges from 'Devil's Curve' cliff in Peru (PHOTOS)
The incident on Saturday happened on the Nariz del Diablo (Devil's Nose) portion of the highway that crosses a mountainous area between the towns of Junín and Túquerres.
Rescue teams did not manage to reach the crash site until Sunday, when they discovered that all of the passengers traveling on the 16-seat bus affiliated with the Supertaxis company died as a result of suffocation.
"I deeply regret the death of at least 13 people who were traveling in a public service vehicle on the Tumaco-Pasto highway, which were surprised by an avalanche of land," the director of the National Road Safety Agency, Alejandro Maya, tweeted. Fatalities include seven men, five women, and a newborn child.
Forensic units have collected the bodies and have taken the corpses to a nearby morgue for identification. The search and rescue efforts were suspended because of the steepness of the terrain and deteriorating weather conditions. Work will resume in the area on Monday to check if more vehicles could have been trapped as a result of the landslide, the Office of Disaster Risk Management of Nariño said in a statement. According to the agency, the landslide was caused by the heavy rains in the region.
You can share this story on social media: