19 people injured as car 'deliberately' hits pedestrians in Melbourne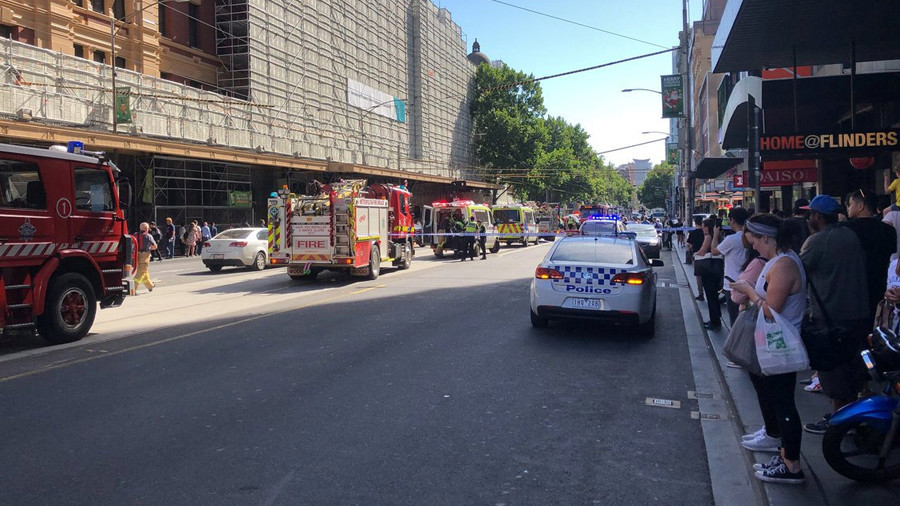 Nineteen people have been injured after an SUV rammed into pedestrians outside a train station in Melbourne. Two people were arrested, with police saying they believe the incident was a "deliberate act."
The incident occurred in front of Flinders Street Station, between Elizabeth and Swanston streets, just after 4:30pm local time, according to police.
"We could hear this noise, as we looked left, we saw this white car, it just mauled everybody down. People are flying everywhere. We heard thump, thump. People are running everywhere," an eyewitness named Sue told News.com.au. Videos on social media show chaotic scenes, with injured people lying on the ground and law enforcement agents urging people to leave the area.
"The car just sped up on purpose," a witness told 9News. Another witness by the name of David told ABC that the car was going "between 60 and 100kms an hour" and "hit people in a fair speed and at least one or two of them got thrown pretty high into the air."
Nineteen people were taken to the hospital, and "several" are in critical condition, Commander Russell Barrett of Victoria Police told reporters. A four-year-old girl is reportedly among those transferred to the hospital.
"At this stage we believe this is a deliberate act, however, we do not yet know the motivation and it is still early stages in the investigation," Barrett said.
Two people were arrested following the incident, including the driver of the SUV.
Footage circulating online shows two police officers dragging a man in a white shirt and jeans away from the passenger side of the crashed vehicle. Another video published on social media shows officers restraining him moments later, after pulling him to the side of the road. The man appears to be unconscious as officers slap his face and search his pockets. He was reportedly then handcuffed by police.
Police are currently attending an incident on Flinders Street between Elizabeth and Swanston streets where a vehicle has collided with a number of pedestrians. Police have arrested the driver of the car. Extent of injuries are not known at this stage. (1/2)

— Victoria Police (@VictoriaPolice) December 21, 2017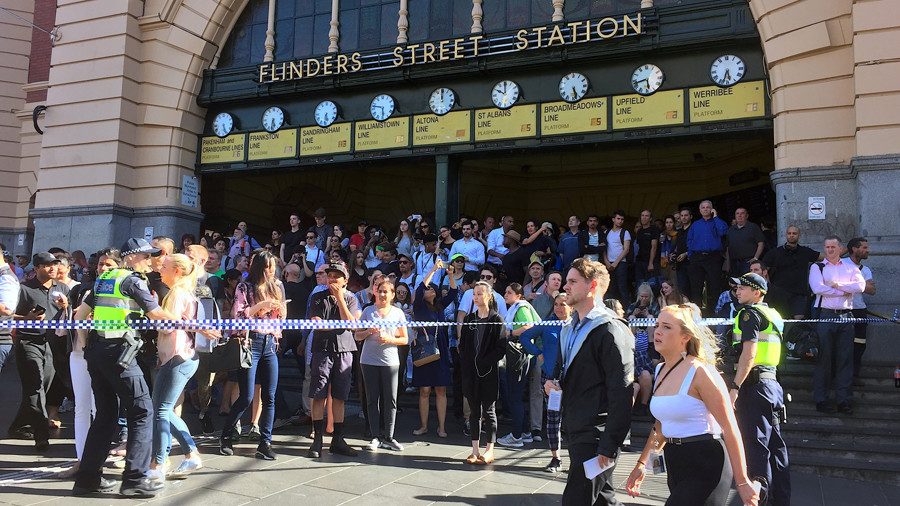 Paramedics have now transported 13 people to city hospitals. Two more people are being assessed by paramedics at the scene.

— Ambulance Victoria (@AmbulanceVic) December 21, 2017
You can share this story on social media: