Antifa building torched in Thessaloniki, Greece (VIDEOS)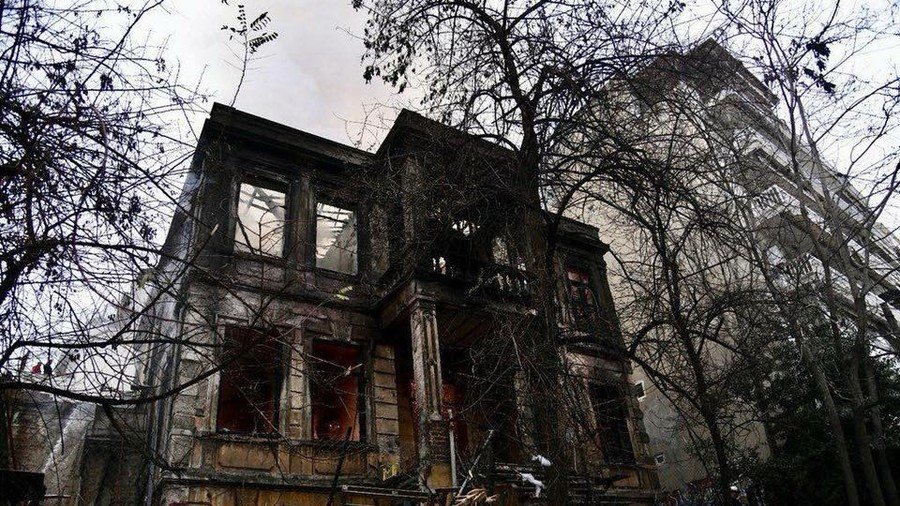 A building occupied by left-wing Antifa activists in Thessaloniki was torched by reported right-wing nationalists during a massive rally in the Greek port city demanding the neighboring Republic of Macedonia change its name.
At around 3:30 in the afternoon, "a group of 60-70 fascists attacked our building with Molotov cocktails, causing its arson," left-wing group Libertatia said in a statement.
A witness said he "heard slogans from an organized group of people" who were walking around smashing things, a local news outlet reported. "The slogans I heard were fascistic. It looks like they threw some flammable material causing the fire to spread very quickly."
Emergency services deployed six trucks and at least 15 firefighters to respond to the massive blaze. It took firefighting crews around three hours to contain the flames in the two-story building. Despite their efforts, the structure was destroyed. No casualties were reported.
The arson attack happened as over 100,000 Greeks rallied in Thessaloniki to denounce the use of the name 'Macedonia,' in what's been a lengthy dispute between Athens and Skopje over the official name of the country, which is listed by the UN as the Former Yugoslav Republic of Macedonia.
If you like this story, share it with a friend!
You can share this story on social media: