Petrol bombs & tear gas in Athens at anniversary of Antifa rapper's murder (VIDEO)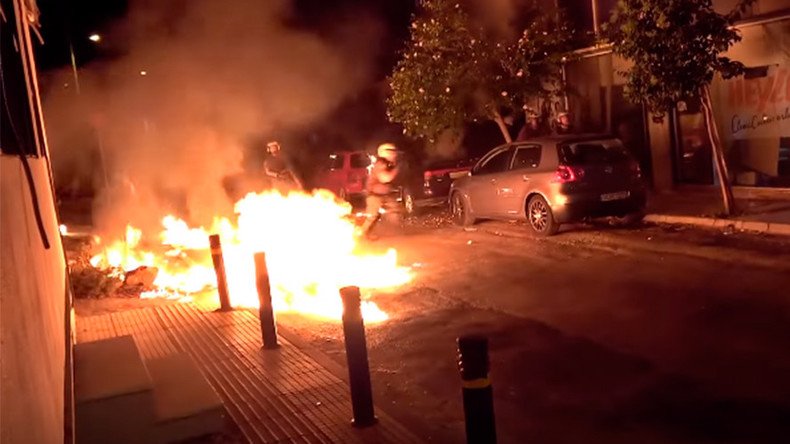 Around 3,000 anti-fascist protesters marched through Athens on Saturday to pay tribute to activist rapper Pavlos Fyssas, killed by a far-right supporter in 2013. Police used tear gas in response to some demonstrators who threw petrol bombs at them.
Anti-fascist groups, representatives of unions, and migrants took part in the protest. People shouted "Pavlos is alive! Crush the Nazis!" Some carried banners demanding Golden Dawn members to be jailed.
The demonstrators, who gathered at Syntagma Square, passed the US Embassy and headed to the headquarters of the far-right, anti-immigrant Golden Dawn, calling for the offices of the party, which holds 17 seats in the Greek parliament, to be shut down.
Clashes erupted after dozens of hooded demonstrators broke off from the peaceful march, according to Reuters. The hooded youths set fire to several cars, damaged an ATM, and threw Molotov cocktails at riot police.
The violence was timed with the end of the main rally, Amna news agency reported. Eight people were detained after protesters hurled petrol bombs towards officers near the main offices of the Golden Dawn late Saturday, Amna said.
"Four years have passed since the murder of Pavlos Fyssas in Keratsini. His killers are still free. The murderers, even despite the lawsuit against them, are not present at all in the court. This is a scandal," Giorgos Tsiakalos, professor of pedagogy at Aristotle University of Thessaloniki, told Ruptly news agency.
The trial should be completed and those responsible for the murder finally brought to justice, Tsiakolos said. "This is the demand of the entire Greek people. Otherwise Golden Dawn will be more and more emboldened."
In 2013, the fatal stabbing of 34-year-old Pavlos Fyssas, who performed under the stage name Killah P, sparked a series of anti-fascist protests across the country.
Three years later, a Golden Dawn supporter who admitted to killing Pavlos was released from pre-trial detention and placed under house arrest. Golden Dawn denied any direct connection with the incident, although party founder Nikolaos Michaloliakos has stated that he accepted political responsibility for Fyssas' murder, but claimed there is "no criminal liability."
The trial of party members is ongoing.
You can share this story on social media: