Migrants set Greek refugee camp ablaze during protest against living conditions (VIDEO, PHOTOS)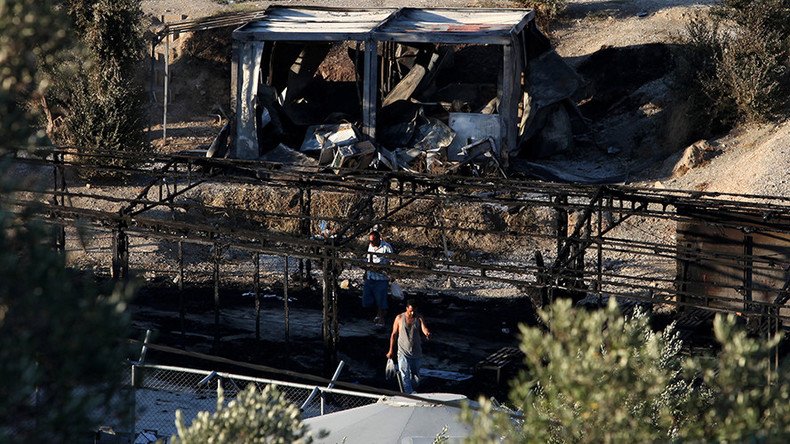 A large refugee camp located on the Greek island of Lesbos has been set on fire during a protest staged by the migrants and refugees accommodated at the facility, who expressed their discontent with the poor living conditions at the center.
In videos that circulated on social media, huge pillars of black smoke can be seen billowing over the camp. Other footages show living containers engulfed in flames as fire rages through the camp.
According to the Greek Athens-Macedonia News Agency (AMNA), at least two large tents and two living containers were burned in the fire. The situation within the Moria camp, where the incident took place, was described as "out of control," AMNA reported, citing its sources.
The incident started as a protest when a group of migrants gathered outside the pre-departure center operating within the camp to express their discontent with the living conditions of those, who were due to be readmitted to Turkey.
The protest soon turned into a riot as the protesting migrants started burning tents. The incident also involved clashes between the camp residents and police officers who were deployed to the scene. The migrants pelted the officers with stones, and police fired tear gas.
The migrants also reportedly prevented local fire brigades from reaching the scene of the fire by barring them from entering the camp and pelting them with stones as well, local media reports claimed.
The firefighters were eventually forced to retreat. No injuries have been reported so far, AP reports, citing local police. There were also no reports of arrests.
The Moria camp hosts more than 14,000 migrants and refugees, who remain there until their asylum applications are processed, according to AP. They are not allowed to travel to the Greek mainland under the terms of an agreement between the European Union and Turkey reached in 2016.
Those whose applications are rejected are returned to Turkey. The facility witnessed several outbreaks of violence by refugees and migrants, who repeatedly expressed their discontent over the lack of housing facilities capable to accommodate thousands of people sent there.
READ MORE: Asylum seekers burn EU offices in Greek migrant camp (VIDEO, PHOTOS)
You can share this story on social media: