Topless FEMEN activists tackled by anti-abortionists during protest clash (EXPLICIT VIDEO)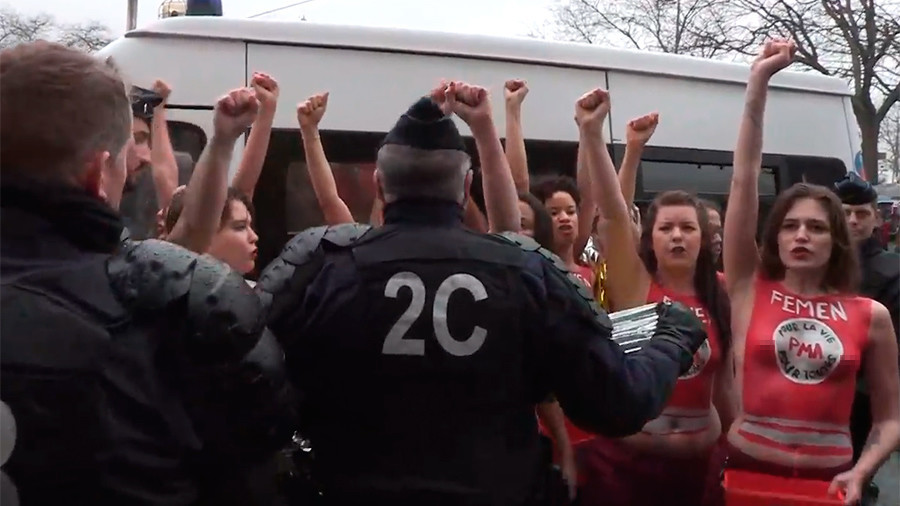 Topless FEMEN activists were forced to dodge blows from aggressive anti-abortionists after they crashed their demonstration in Paris.
The women had 'FEMEN' shirts painted on their bodies and carried buckets asking for 'Christian charity for sperm donations.'
READ MORE: Naked FEMEN activist goes full 'Donald Trump' in Kiev nuclear protest (VIDEO)
A group of men charged at the women, ripping the buckets from their hands, tackling them to the ground, and aggressively trying to wrestle them into foil blankets.
WARNING: EXPLICIT, VIOLENT VIDEO
The activists were eventually swarmed by French police officers who huddled around them while the FEMEN group continued their protest chants.
The FEMEN movement was founded in Ukraine in 2008, and quickly became notorious for their outrageous public stunts against religion, governments and other public institutions.
READ MORE: Topless FEMEN activist tries to kidnap baby Jesus from Vatican nativity scene (PHOTOS)
The group fled Ukraine in 2013, citing fears for their "lives and freedom" and have since branched out to a number of countries, and is now headquartered in Paris.
Like this story? Share it with a friend!
You can share this story on social media: