Topless FEMEN activists storm stage at Woody Allen concert (VIDEO)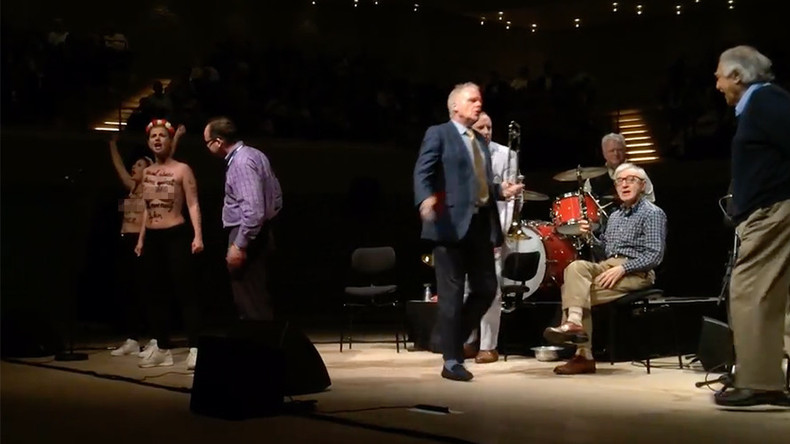 A performance by Woody Allen in Germany was disrupted when topless FEMEN protesters stormed the stage. The women attempted to read a letter from Allen's adopted daughter Dylan Farrow in which she accuses him of sexual assault.
Allen was performing at Hamburg's Elbphilharmonie on Tuesday with his New Orleans Jazz Band when the women appeared on stage, reported Bild. Video filmed at the venue shows Allen and his band remained on stage throughout the incident.
The women attempted to read Farrow's 2014 open letter published in the New York Times in which she accused Allen of sexually abusing her as a child. Quotes from the letter were painted on their bodies.
The band continued playing when the women were removed before reading the letter.
Outside the venue members of FEMEN distributed flyers to people asking them to question Allen's innocence. On Facebook the group said Allen was "not just the neurotic and charming director, musician and actor but also seems to like sticking his fingers into his daughters."
Allen denied the allegations by Farrow. A police investigation of the allegations failed to lead to charges.
Following the concert the actor and director described the women as "stupid" to Hamburg publication SHZ, adding that he would return to the venue on Wednesday to play again.
You can share this story on social media: