18 people, incl 14 foreigners, killed in Afghan hotel attack – interior ministry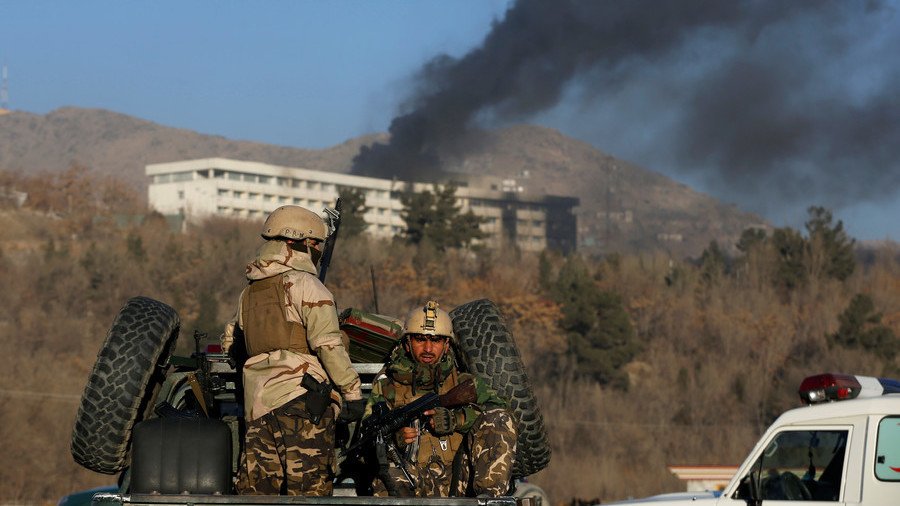 Eighteen people were killed when gunmen stormed the Intercontinental Hotel in Kabul, Afghanistan Saturday, according to the country's interior ministry. Fourteen of the dead were foreigners, including six Ukrainians.
Of the foreigners killed in Saturday night's attack, 11 worked for KamAir, a private Afghan airline, Interior Ministry spokesman Najib Danish said, as cited by AP. The airline issued an alert saying some of its flights had been disrupted because of the attack.
Six Ukrainian citizens were killed in the attack, according to Ukraine's Foreign Minister Pavlo Klimkin. "I have informed the president of the death of six Ukrainian citizens as the result of the attack on the hotel in Kabul. We are working with the law-enforcement agencies of Afghanistan to clarify the circumstances of this terrorist act," he said. President Petro Poroshenko offered his condolences to the families of the deceased and ordered officials to provide them with assistance.
Ten people were also wounded in the raid, including six security officers and four civilians, according to Danish. Gunmen burst into the hotel Saturday night, opening fire on guests and staff and taking dozens of people hostage. "Suddenly they attacked the dinner gathering... They broke into the rooms, took some people hostage and they opened fire on some of them," local resident Abdul Sattar told AFP after speaking to friends trapped inside the hotel during the siege.
The attackers were armed with light weapons and rocket-propelled grenades, Interior Ministry Deputy Spokesman Nasrat Rahimi said. It took Afghan forces more than 12 hours to free some 160 hostages from the hotel, with videos showing the moment desperate victims used bed sheets to escape from balconies of the besieged and burning building.
All of the attackers were ultimately killed by Afghan forces. The Taliban claimed responsibility for the attack. Saturday's incident is the second time the Intercontinental Hotel – which is not part of the global chain by the same name – has been attacked by the Taliban. An assault in 2011 left 21 people dead, including 10 civilians and nine assailants.
Like this story? Share it with a friend!
You can share this story on social media: