Video shows police arresting teen behind ax & arson havoc in Russian school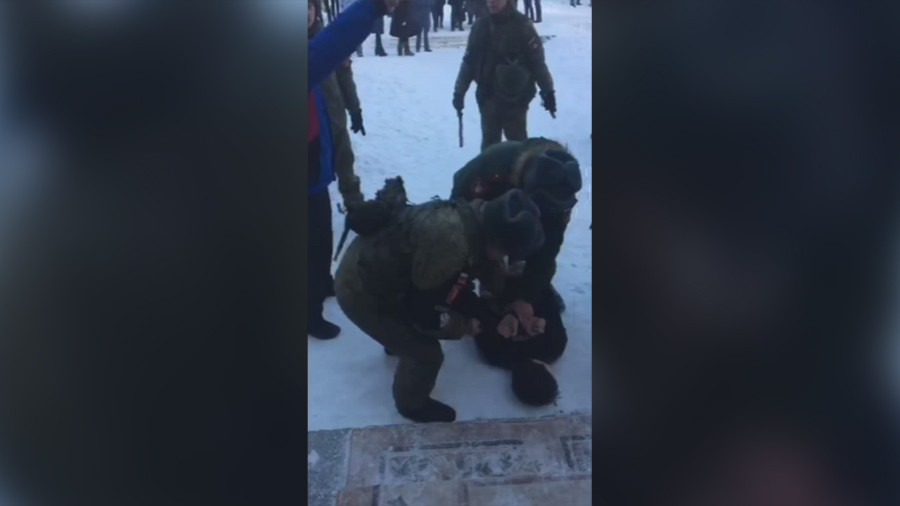 A video has emerged showing the alleged arrest of a teen who stormed a school in the Siberian city of Ulan-Ude, and used a Molotov cocktail to set the building on fire. The attacker tried to commit suicide after the assault.
READ MORE: Ax & arson havoc at Russian school: Teen injures 6, starts blaze
The footage shows the alleged perpetrator lying on the ground, apparently in the school yard, with three police officers tying his hands. The suspect does not appear to resist law enforcers.
Six people, including a teacher, were wounded in the attack on Friday morning. One of the victims, a 13-year-old girl, is reportedly in a coma. The attacker, a student in the school, allegedly chopped off one of the victim's fingers, and hit several children in the head with an ax.
The teen, identified by local media as 'Anton,' attempted to kill himself after the attack. According to local media, he stabbed himself with a knife and then jumped from a window.
He had earlier told a girl at the school about his plans via the Viber messaging app, a local woman said, according to Ruptly. "The boy told her [the girl] not to go to school because 'there will be a massacre,'" she added.
You can share this story on social media: