Schools threatened day after deadly Sweden knife attack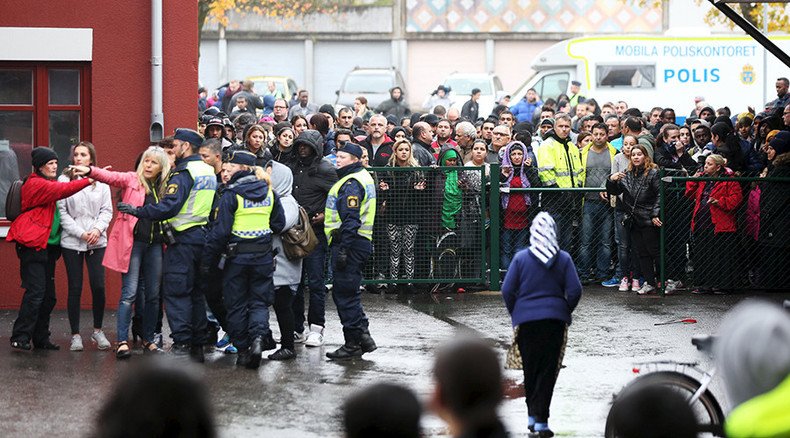 Schools in Sweden received threats on Friday, just one day after a stabbing attack killed two people and injured three others at a school in Trollhatan, Expressen newspaper reported.
The Greve Farm School wrote on its website that three posters had been hung on the premises which clearly referenced the Thursday attack.
READ MORE: 'Racial motive' behind masked man's knife attack at Swedish school that kills 2, injures 3
The phrase "Guess what, I'm back" accompanied a picture from Thursday's incident, according to Joakim Hansson, assistant officer in charge of police in the Western Region.
"Now we have been in contact with the police several times and do not believe that the threat is serious. We can therefore conduct our business," said Anne-Charlotte Robb, principal of Greve Farm School.
She added that she is "very worried."
"It is extremely unpleasant. There are cameras in the school and I hope they caught the culprit on the image," Robb said.
The Kannebäck School in Gothenburg also received threats, though the details remain unknown.
Police have increased their presence in the area following the threats.
Also on Friday, a man inspired by the Trollhattan attack threatened to launch an assault in the city of Borås. The man, who describes himself as mentally ill, wrote the comments on Facebook.
Parents in Borås have been asked to pick up their children from school. Police and security guards have been called to the city's schools, which have been locked and secured.
The Thursday attack at a school in Trollhatan occurred when a masked man armed with a sword entered the campus. He stabbed four people, killing a teacher and a student.
The attacker was shot by police at the scene and later died in hospital. A police investigator said that a racist motive was "part of the picture."
You can share this story on social media: