FEMEN vs Zeman: Czech President's bodyguards wrestle topless activist at polling station (VIDEO)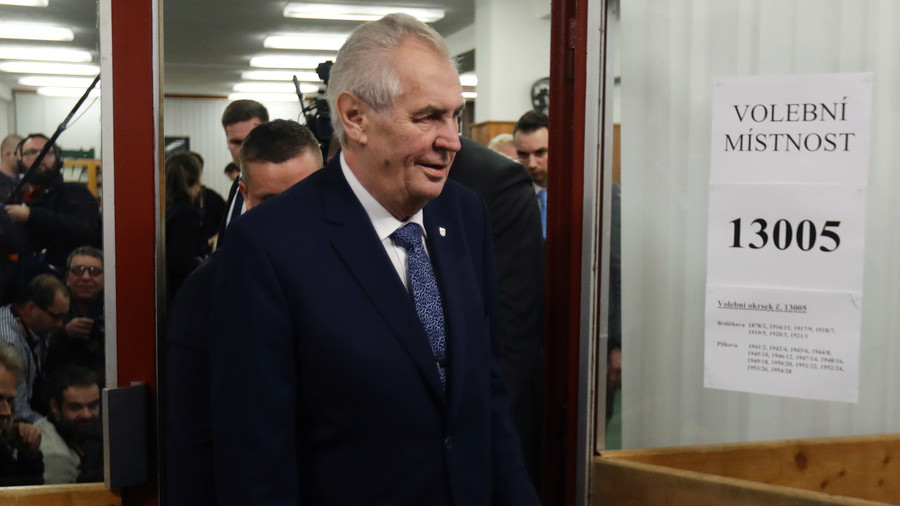 Czech President Milos Zeman was confronted by a topless FEMEN activist at a polling station in Prague on Friday. Zeman looked embarrassed but said he "felt privileged" to have been targeted by the radical feminist protest group.
The female activist had her 15 seconds of fame during the first round of the country's presidential election. Shouting "Zeman is Putin's slut," she rushed towards the president while he was collecting his ballot paper from the election committee. Zeman's bodyguards wrestled the young woman to a prostrate position, and hastily withdrew. The Czech president was also briefly escorted from the room.
Zeman, who is seeking a second five-year term, returned to the room shortly after, and his second attempt to cast his vote was successful.
Commenting on the incident, he said, as cited by RT's video agency Ruptly: "I was probably attacked by a black woman from the group called 'Femen'. That group has previously attacked the Pope so I am honored that they attacked me. As you see, my guards worked well as the woman could not get close to me. And now we are going to continue with the vote."
Nine candidates altogether are running in the election. If none manages to secure more than 50 percent in the first round of the election, a run-off vote will take place on January 28 and 29.
The comparison drawn by Zeman referred to late last month, when a topless FEMEN activist attempted to kidnap Baby Jesus from the Nativity scene at St. Peter's Square in Vatican City. The topless protest took place right before Pope Francis delivered his traditional Christmas message to believers from the Vatican.
The woman rushed to the manger in the center of the square, hoping to grab the Jesus figurine, Reuters photos showed. However, a Swiss guard blocked the activist, who was quickly covered with a black coat.
FEMEN activists staged another protest near the Vatican's Nativity scene on Christmas Eve. Demonstrators had the words "Assaulted by the church" written on their topless bodies.
FEMEN is a radical feminist protest group, which was founded in Ukraine in 2008. The organization, based in Paris, has a reputation for its controversial topless protests against religious institutions, sexism, homophobia, and other social issues.
You can share this story on social media: