'Victory of all feminists': FEMEN wins right to topless protest in France
Published time: 24 Mar, 2016 11:59
Edited time: 4 Sep, 2018 12:22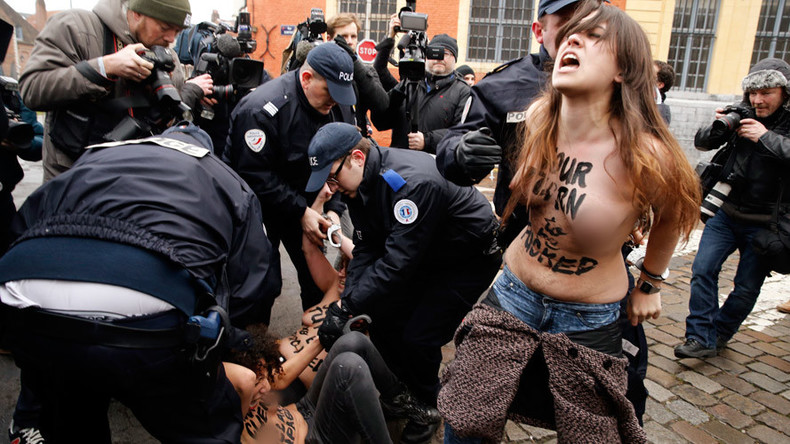 FEMEN activists were acquitted of sexual exhibitionism charges in Lille Wednesday for their topless protest during the trial of former IMF chief Dominique Strauss-Kahn last year.
The three activists, who wrote "pimps, clients, guilty" and "your turn to be f**ked" on their bare chests, shouted at Strauss-Kahn's car before being arrested by police in February 2015.
"A political demonstration should not be confused with sexual aggression," FEMEN's lawyer Valentine Reberioux said. "These are political acts using the nude torso as a mode of expression and it ends there."
Prosecutors had called for a three-month suspended sentence and a fine. They have ten days to appeal the verdict.
READ MORE: Topless FEMEN runs wild in Paris, cop rams into wall failing to catch activist (VIDEO)
"Today's victory of FEMEN activists in Lille's court is a victory of all feminists," FEMEN said on its website. "The court didn't see any violation in activists' protest performance against the sex offender Strauss-Kahn, former director of the International Monetary Fund, in 2015. It's sexual abuse that should be banned, not feminism! And the fight continues!"
Strauss-Kahn was in court for his alleged role in aiding and assisting in the prostitution of seven women.
He claimed he was unaware that the women he had orgies with were sex workers - and was eventually acquitted of all charges last June.
FEMEN was protesting sexual violence against women and in support of victims of prostitution.
FEMEN is an international women's movement whose activists protest topless with slogans painted on their chests and flower crowns in their hair.
READ MORE: Swearing bare-breasted activists rush at Putin and Merkel (VIDEO, PHOTOS)
Their ideology centers around "sextremism" and feminism.
The group has previously been found guilty in two cases in France.
One activist was fined €1,500 for attacking a wax figure of Vladimir Putin in Paris in 2014 while sans chemise.
READ MORE: Topless FEMEN runs wild in Paris, cop rams into wall failing to catch activist (VIDEO)
Another was given a one-month suspended sentence after a December 2013 topless protest against abortion restrictions in Spain.
Both cases are now being appealed.