'Quite a paradox': Topless FEMEN activists attack Marine Le Pen at May Day rally (VIDEO)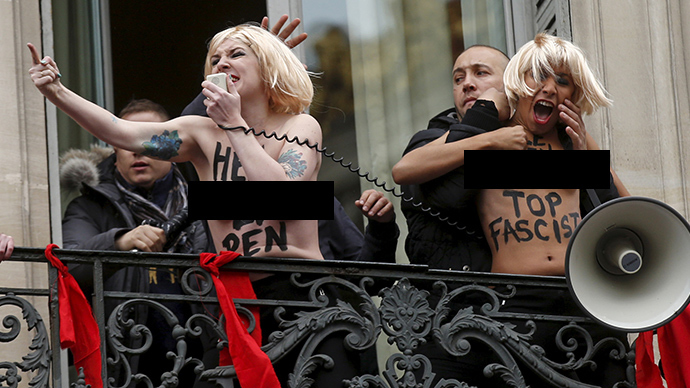 Topless FEMEN activists disrupted Marine Le Pen's May Day speech in Paris as well as a tribute to Joan of Arc at a rally hosted by France's National Front party. Activists with anti-Le Pen slogans covering their bodies carried out a Nazi salute.
Le Pen, the leader of the National Front, was approaching the memorial to Joan of Arc to lay flowers on it when two FEMEN activists with "TOP fascist Le Pen" painted on their chests and backs interrupted the ceremony. John of Arc is one of France's most revered heroines and was beatified as a Roman Catholic saint after her death.
"Lots of surprises on this May first," Le Pen said in reaction to FEMEN's antics. "It's quite a paradox when you call yourself a feminist and try to disturb a tribute to Joan of Arc."
#FEMEN sextremists attacked the #fascist Marine Le Pen ! @femeninna@Femen_France@FEMEN_Movementpic.twitter.com/Sne72JNvCq

— FEMEN (@FEMEN_Movement) May 1, 2015
The National Front often organizes rallies near statues of Joan of Arc. It uses a tricolor flame, partly symbolic of her martyrdom, as its emblem and as a symbol of nationalism.
Des Femen interrompent le discours de Marine Le Pen pic.twitter.com/gxEWwmdTKm

— Nicolas Prissette (@NicolasPri7) May 1, 2015
FEMEN activists have also hijacked Marine Le Pen's speeches against her political rivals, President Francois Hollande and former President Nicolas Sarkozy, who she criticizes for their immigration policies
"They have allowed massive immigration to install itself in France. They have unpinned the Islamic fundamentalist grenade," she said. "We are right on everything."
Le Grand hôtel de Paris a donc permis au service d'ordre du #FN de déloger les Femen pic.twitter.com/tXIOvK10ZF

— David Perrotin (@davidperrotin) May 1, 2015
As Le Pen was speaking, three FEMEN members managed to sneak onto the balcony overlooking Place de l'Opéra square and unfurled two large banners reading "Heil Le Pen." They then stood side-by-side and carried out a Nazi salute.
Seven people were arrested following the two incidents.
Les Femen violemment attrapées par le service d'ordre du #FN qui fait le signe de la victoire pic.twitter.com/PhaTFqizxU

— David Perrotin (@davidperrotin) May 1, 2015
"They [FEMEN topless activists] will be forced to get dressed," Le Pen said.
Femen spokeswoman Inna Shevchenko, who was granted political asylum in France in 2013, said the group plans to sue the National Front for excessive violence.
"The objective today was to ... show how Marine Le Pen really is and show her real face," Shevchenko told French media, according to Reuters.
Between 3,500 and 3,800 people gathered in Place de l'Opéra square on May Day, according to police estimates.
. @n_meizonnet tout est affaire de perspective #fnpic.twitter.com/H9ubldbjAC

— David Perrotin (@davidperrotin) May 1, 2015
FEMEN is a radical feminist protest group founded in Ukraine in 2008. The group is now based in Paris. The organization has become internationally known for its topless protests against religious institutions, sexism, homophobia, and other social, national, and international issues.
You can share this story on social media: