Mysterious 'black snow' in Kazakhstan sparks investigation (PHOTOS, VIDEOS)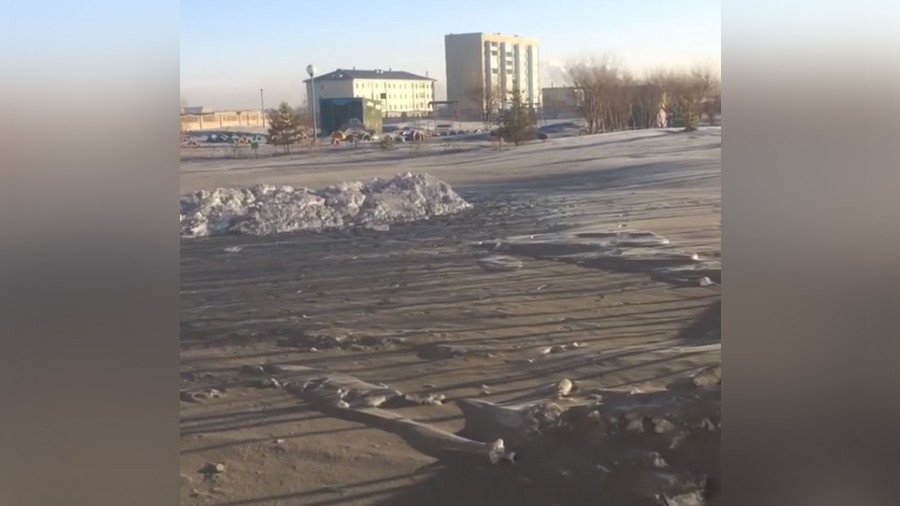 Authorities in the central Kazakh city of Temirtau have launched an investigation after a mysterious dust turned the snow black. Local residents have blamed the metallurgical complex in the area for causing the strange pollution.
A winter wonderland was turned into a rather depressing view in early January, when a layer of soot-like dust covered the Kazakh city. Temirtau residents took to social media to share their pictures and footage of snow piles coated with black dust.
"How is it possible to live in a such city? Look at this dirty snow and dust settling on clothes. It's hard to breathe, I suffer from asthma," one local woman complained, as she signed a petition "against black snow." More than 5,000 people have put their names to the letter so far, calling on the authorities to take action against the pollution.
Home to some 170,000 people, Temirtau also hosts the nation's largest steel production enterprise, Karaganda Metallurgical Combine – part of the global steel manufacturing giant ArcelorMittal. Citizens say harmful emissions have triggered a rise in the number of diseases.
"Snow, as a litmus test, reveals the frightening scale of these harmful emissions," the petition reads.
Following the outcry, a group of ecologists gathered snow samples from various locations in the city. Although the investigation is still underway, the head of the regional ecology department, Alibek Bekmukhametov, said the department's inspection at the plant revealed "the amount of emissions exceeded the limits." ArcelorMittal Temirtau, he said, "failed to fulfil the plan of environmental protection measures," according to the Astana Times.
You can share this story on social media: