'Out of control': Human Rights Watch slams Indian mining industry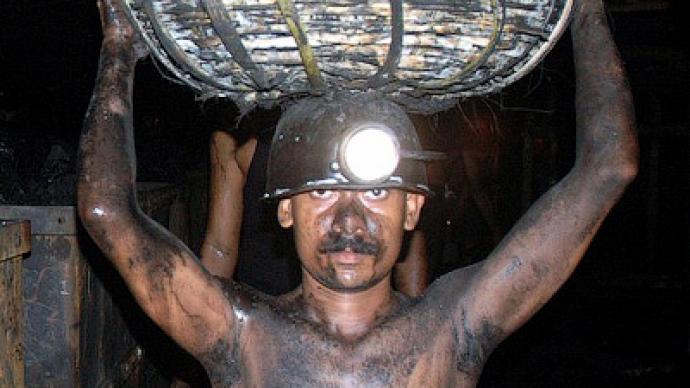 Corruption and poor regulation in the Indian mining sector is causing environmental, health and human rights problems. It is also damaging the economy and has led to a political crisis and scandal at local and national levels.
Mining is one of India's most important industries, employing several hundred thousand people and indirectly guaranteeing the livelihoods of many more. The Indian metals and mining industry was estimated to be worth US$106.4 billion in 2010. But according to a report by Human Rights Watch, it is poorly regulated and the government is failing to protect human rights or the environment.
Vital sector 'left to regulate itself'
The report, which highlighted iron ore mining in the states of Goa and Karnataka, says that laws are in place in India to protect communities affected by mining, but "their enforcement has essentially collapsed."The South Asia director of Human Rights Watch, Meenakshi Gangulay, told RT that, "Regulation and rules are pretty good; the problem is that they are not enforced."The government has essentially left the mining sector to regulate itself, the watchdog said. It is often left to the mining companies to produce supposedly-independent reports instead of giving the central role to the regulators. This has led to a conflict of interest.The report says a few dozen government officials are tasked with regulating all 2,600 authorized mining operations in India. This means the government has to rely on information provided by the mining operators and in many cases this information is either substandard or does not exist.Problems in the mining industry have been linked to a number of high-profile corruption allegations. Last year BS Yeddyurappa, the former chief minister of the Karnataka region, had to resign after he was embroiled in a mining scandal which allegedly cost the state $400 million.The chaos in the mining sector helped bring down two state governments in 2011 and 2012.There is also a substantial amount of illegal mining. Some mines may be hidden deep in the forest and constitute just a few men and machines. This has deprived the state of much-needed revenues and has resulted in costly shutdowns of mines.JP Hedge, a former member of the Karnataka region's Legislative Assembly, told HRW, "The way they do illegal mining up there. You wouldn't believe there was a government here. It's not mining, it is looting."
Economic damage not worst woe
The environment, health and human rights of many people living near to mines have suffered as a result of the lawlessness in the sector.Residents in the south of Goa say that mining has destroyed vital groundwater supplies, ruined crops and created serious health risks. "People are getting breathing problems," one farmer complained to Human Rights Watch.Convoys of overloaded iron ore trucks pass along narrow roads, spewing out clouds of iron dust as they trundle past. The thick dust then settles on crops, destroying them and causing economic ruin.Groundwater, rivers and streams have also been contaminated by nearby mining activities. Rama Velip, a farmer and anti-mining activist, told HRW that, "because of water pollution there is no money for agriculture, some wells are dry, [and] some spring water is destroyed."There have also been reports of direct threats and violence against anti-mining activists who refuse to be brought off by the mining companies.Nilesh Gaukar, who helped organize an anti-mining protest in 2011, told HRW that he received an anonymous phone call that mine owners were planning to attack him. A few days later someone hit him over the head with an iron rod as he got off a bus, he said.Another prominent activist and widow, Cheryl DeSousa, told the campaigning group that she had received rape threats."They told me that my problem was that I hadn't had a man in so long and they will fix that," she recalls.HRW's Meenakshi Gangulay added that it is very difficult to determine how many casualties and victims there are as a result of Indian mining because of insufficient data."Mining is an important part of India's economy, but that does not mean the industry should be allowed to write its own rules," Gangulay said.
You can share this story on social media: