Caspian oil threatens caviar production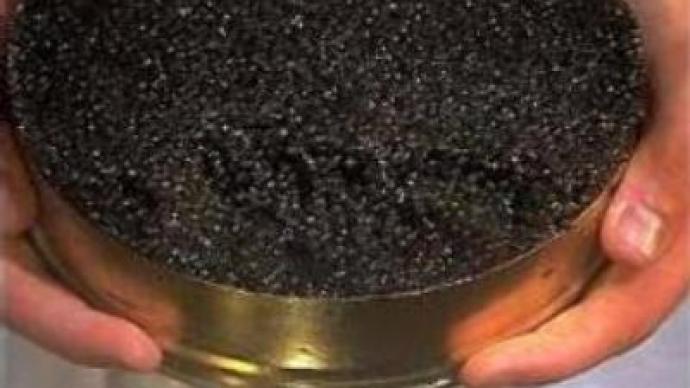 The discovery of vast amounts of oil in the North Caspian Sea fatally threatens fragile caviar stocks there. But oil companies are presenting themselves as the saviours of the fish industry.
On Tuesday, Lukoil announced that it had found vast reserves of oil in the North Caspian. This is the chief home of Beluga black, considered the best caviar in the world, one ounce will set you back a cool US$ 260. After years of environmental destruction and over-fishing, stocks had sufficiently recovered because of a ban on Beluga exports to be lifted in January.But experts say environmental pollution from oil could kill off the fragile recovery of the sturgeon.
"Oil extraction in the Russian part of the Caspian is of massive concern to us. Oil companies have already had a very negative effect on the marine habitat in the Kazakhstan part of the Sea,"
stated Dr. Raisa Khodorevskaya, the adviser of the Caspian Institute in Astrakhan.Lukoil anticipated this attack by bankrolling research into sturgeon conservation. It pays US$18 MLN a year to the world-leading BIOS Institute in Astrakhan to develop methods of captive rearing. The institute nurtures the sturgeon from caviar eggs through to adult belugas, which can weigh over a ton.Fishermen usually kill the sturgeon for its caviar as soon as it's caught. BIOS has pioneered methods of getting more caviar, without killing the fish.
"A sturgeon can give caviar 15 times over its lifetime if it is operated on and sewed back together correctly. We have sold our technique to the world, to China, France and the state of Hawaii of the U.S.,"
said Lidia Vasilieva, the Director of the BIOS Fish Institute.The BIOS Institute keeps North Caspian caviar alive. 46% of the Sevruga, 60% of Osetra and 99% of Beluga sturgeon caught in the Caspian have been reared by the Institute before being released into the sea."Lukoil promises that it has pioneered ways of extracting oil without damaging the environment.
"We are the first company in the region to apply a policy of zero discharge into the habitat. Our environmental standards meet and exceed Russian law,"
proclaimed Vagit Alekperov, the President of Lukoil. Old fishermen at the Astrakhan fish market remember how the sea used to be so full of the finest beluga that the oars of their fishing boats got stuck in the water. Now the only caviar available here comes from Kamchatka in East Siberia.Market sellers say this is the first time there is still no fresh caviar in May. Environmental groups will have to put particular pressure on Lukoil to make sure the birth of North Caspian Oil does not signal the death of the fish industry.
You can share this story on social media: