Uproar over contraceptive app after 37 users fall pregnant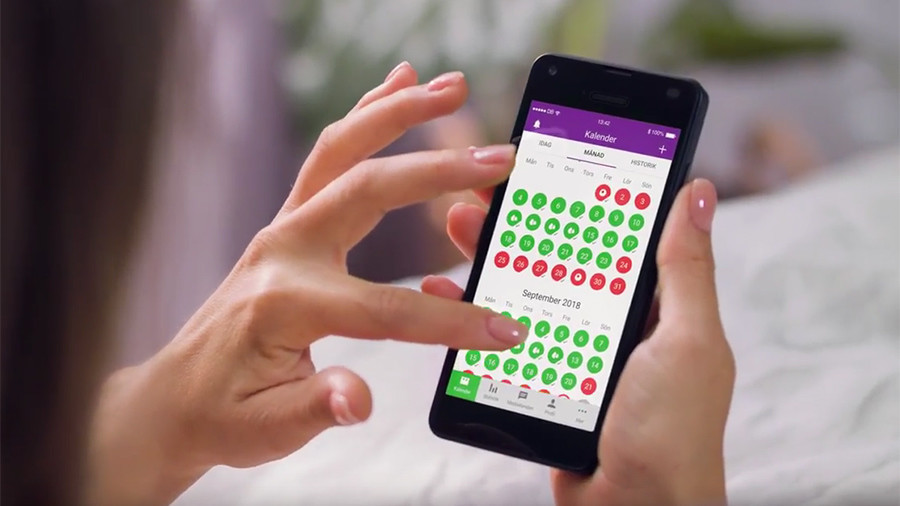 A Swedish contraceptive app designed to let women know when it's 'safe' for them to have unprotected sex has been reported to the country's medical regulator after dozens of its users fell pregnant.
The Södersjukhuset hospital in Stockholm lodged a complaint with the Swedish Medical Products Agency, or Läkedelsverket, after staff performed abortions on 37 users of the NaturalCycles app over a four-month period last year.
READ MORE: Swedish church pushes for neutral gender reference to Jesus
The company claims the app, which tracks changes in body temperature over the course of a woman's menstrual cycle to predict 'safe' days for unprotected sex, is 93 percent effective under typical use – a higher level of effectiveness than some more traditional contraceptives, according to the the company's website. Speaking to tech news website Di Digital Thursday, co-founder Elina Berglund described the technology as "about as safe as the pill."
In a statement to RT.com, NaturalCycles spokesman Harry Cymbler said unwanted pregnancy is an "unfortunate risk" with any contraception and he is confident the regulator will clear the company of any blame. "If you have a popular form of contraception such as Natural Cycles, then you also have to expect a certain amount of unwanted pregnancies from users using this method," Cymbler said.
The company maintains that of the total number of abortions performed at Södersjukhuset last year – 37 – is consistent with the typical failure rate of all contraceptives. "We understand that it sounds alarming," Cymbler said. "But when Natural Cycles' user base increases, naturally so will the amount of unwanted pregnancies coming from users using us, just as it would do with any kind of new contraception."
"We look forward to assist any further investigations from Läkedelsverket as we are confident they will perform a correct evaluation," he added.
READ MORE: Condom company spices up Malaysia's sex life with 'chili rice' flavoured contraceptive
NaturalCycles was founded in 2013 and currently has around 600,000 users. The company is valued at more than 1 billion Swedish kroner, according to BreakIt.
Experts have voiced their doubts about the app's effectiveness in the past. In November, a midwife at Karolinska University Hospital identified as 'Maria' told News24 that she meets NaturalCycles users seeking abortions on a daily basis. "If you do not want to get pregnant, it's not a good option. You must be exceptionally good and careful if you intend to use such apps as a contraceptive," the midwife said.
You can share this story on social media: