400yo viola left looking like 'car ran over it' following Alitalia flight (PHOTOS)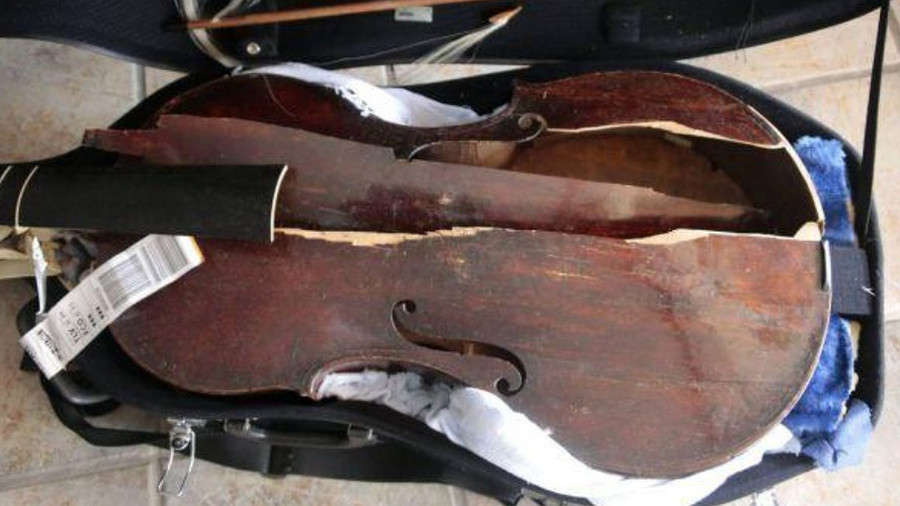 An Italian airline is under fire for its handling of a 17th century viola, whose owner claims the instrument was given back to her looking like a "car ran over it."
Myrna Herzog was travelling from Rio de Janeiro to Rome with Alitalia on January 2, when her 17th century viola da gamba was placed in the hold of the aircraft.
Herzog, a director of an Israeli viola consort, has now published photos to Facebook under the heading: "Alitalia hates musicians." The images show the instrument almost completely destroyed, damage she says was sustained after it was handed over to the airline.
"This is how Alitalia delivered to me my original 17th century Lewis viola da gamba, after ensuring to me that it would be taken by hand into the plane and out of it," Herzog posted online.
READ MORE: 'Ashamed & embarrassed': United Airlines CEO Munoz won't quit over passenger furor (VIDEO)
Herzog later shared a before-and-after picture of the viola, revealing in more detail the damage, which she says looks like it was caused by a car.
Music lovers have since chimed in on social media to support Herzog and express their outrage at the apparent carelessness of the airline.
"This is absolute brutality. It makes no sense. This is a fragile instrument, and it should have been handled with care," one person posted under photos of the smashed viola.
Another added: "All of us musicians are traumatized and horrified at the sight of this senseless carelessness. I am so sorry."
READ MORE: Airport runway closed after American Airlines plane hits deer
Alitalia has responded on Twitter to say that the airline "deeply regrets" what happened to the instrument. It added that Herzog was offered the opportunity to buy a seat for the viola but declined.
"During check-in operations, according to the information available at the moment, the passenger was presented with the possibility to buy an 'extra seat' but she refused and signed the limited release form… after being informed that the best solution for such a delicate item was to bring it with her in the cabin," Alitalia posted online.
The Italian carrier said it is now carrying out an investigation into the incident.