'Fog of war' masks civilian casualties: Airstrike deaths up at least 82% in 2017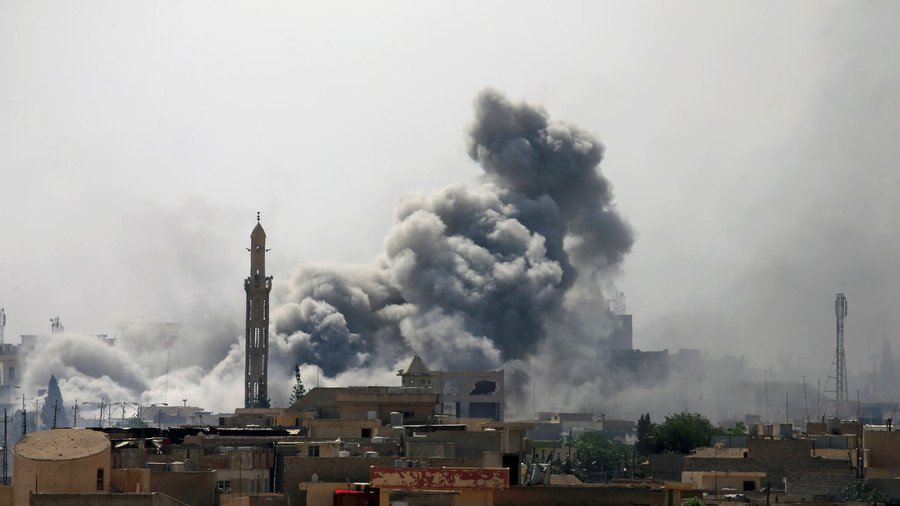 The number of civilians killed by explosive weapons jumped 42% in 2017, with airstrike deaths surging by 82%, a new report reveals. The increases are mainly attributed to deadly strikes in Syria, Iraq, and Yemen.
The new report by Action on Armed Violence (AOAV) found that at least 15,399 civilians were killed by explosive weapons in the first 11 months of last year, with the organization stating that the toll "strongly suggests that 2017 was the worst year for civilian deaths from explosive weapons since AOAV's records began in 2011."
Such weapons were used in "at least 60 countries around the world" last year, AOAV executive director Iain Overton told RT.
Civilian deaths from airstrikes totalled 8,932 – a sharp increase on the same period in 2016, when 4,902 civilians were killed. The 2017 number is also a whopping 1,169% higher than the same period in 2011, when 704 died.
"Of the total civilian deaths recorded...58% were caused by airstrikes, mainly in Syria, Iraq and Yemen," the report states. Syria has been targeted by Russian and Syrian government airstrikes, as well as US-led coalition bombings as part of its battle to regain control of Raqqa from Islamic State (IS, formerly ISIS). Iraq has also been subjected to US-led coalition bombings in its aim to recapture Mosul from the group.
The Saudi-led coalition bombing Yemen also accounted for a large proportion of civilian deaths. Saudi Arabia has long faced international criticism for its alleged disregard for civilian lives, an accusation it denies.
Overton noted that the staggering figures are likely far lower than the actual number of civilians killed by explosive weapons.
"We have always acknowledged that our data would likely represent a lower figure of total civilians killed or injured than might actually be the case," Overton said. "This is particularly true when there is a single fatality or wounding, and in under-reporting of those injured by a bomb blast."
"When the fog of war descends, casualty figures often fall short – both because they become highly politicized and because accurate reporting is often a casualty of war itself," he said. He said there are "some no-go zones" for journalists, as they could be kidnapped or executed, and noted that the world's media has seen a "radical decline in foreign correspondents and paid staffers in recent years."
In the case of President Donald Trump's "Mother of All Bombs," dropped in Afghanistan in March, officials claimed 92 IS fighters had been killed.
"When an enormous conventional bomb, the likes of which the world has never seen, is dropped, the blast will effectively wipe out evidence of whether someone was a fighter or a civilian," Overton said.
He also noted that Washington has a "habit of assuming all fighting-aged men are, in fact, fighters...this is the hammer that the US uses to establish the truth in war."
Meanwhile, the advocacy director at AOAV, James Kearney, told RT that the numbers revealed in the study are part of a "tragic background," also citing the continuously-increasing death tolls of civilian deaths by explosive devices since 2011.
He went on to state that while airstrikes are certainly largely to blame, so are improvised explosive devices (IEDs). "Although the use of IEDs has been decreasing since 2013, they still account for thousands of deaths each year. And again, most of these are civilian deaths," he said.
Kearney has urged the governments – as airstrikes are mainly carried out by state actors – to refrain from "indiscriminate" actions during their military campaigns. "Essentially, countries and their militaries have a responsibility in three ways. First of all, they have to have clear rules of engagement. Secondly, countries should adhere to the 1977 protocols, the Geneva Convention, which protects civilians. And thirdly, countries also have to bear in mind their responsibility to protect the civilian population in their own country."
Like Overton, Kearney noted that the numbers provided by various nations aren't necessarily accurate. The researcher also called for greater openness from governments carrying out air campaigns.
"The US and the UK, perhaps, being the most accessible militaries who are involved in these sort of airstrikes and so forth. The US, for example, releases monthly reports on the number of civilian deaths, which have been caused on the hands of the coalition forces. The problem is that countries such as Russia and Saudi Arabia aren't so transparent… in terms of the Saudi figures and the Iraqi figures, it's very, very difficult to get the hands of what those are."
Moreover, Kearney pointed out that "the UK and US figures have been criticized for being far, far too low." In late December, the US led coalition acknowledged having killed 817 civilians since the start of its campaign in Syria and Iraq in 2014. Data from a December AP investigation found that the liberation of Mosul alone came at a cost of up to 11,000 civilian lives.
As for Raqqa, Russian Defense Ministry spokesman Major-General Igor Konashenkov has compared the actions of the US-led coalition to wiping the city "off the face of the Earth" in the same way that the US and Britain bombed Germany in 1945, and rushing to cover up the aftermath.
"What is behind the rush by Western capitals to provide targeted financial help only to Raqqa?," Konashenkov said in October. "There's only one explanation – the desire to cover up evidence of the barbaric bombardments by the U.S. Air Force and the coalition as fast as possible and to bury the thousands of civilians 'liberated' from Islamic State in the ruins."
Action on Armed Violence monitored English language wire reports of incidents to gather its data. These numbers are higher than those provided by government officials, but more modest than those compiled by other monitoring groups.
You can share this story on social media: