'None of this was worth it': Up to 11,000 civilians killed in battle to free Mosul, AP probe reveals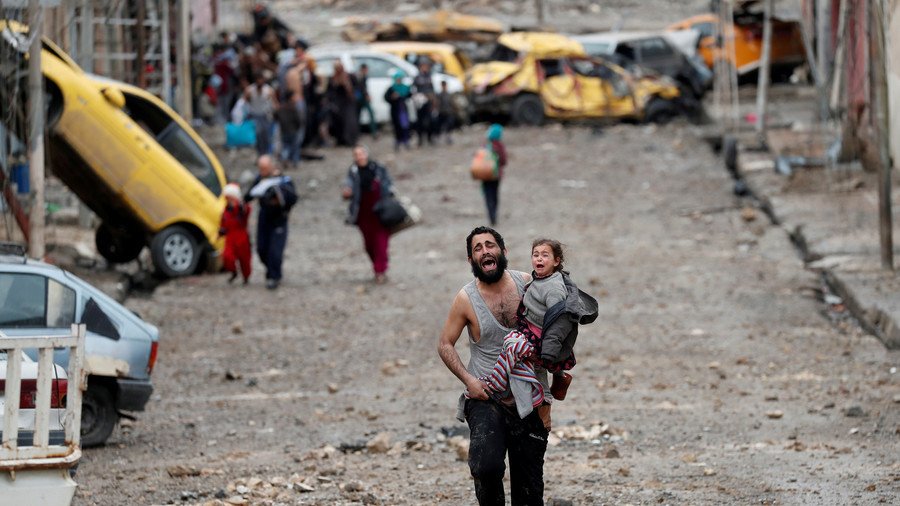 The liberation of Mosul from Islamic State came at a high cost, according to an AP probe which found that between 9,000 and 11,000 civilians died during the process. The coalition acknowledges responsibility for 326 of the deaths.
The investigation cross-referenced independent databases from non-government organizations and analyzed the city morgue's list of 9,606 names of people killed in the battle. The probe found that at least 3,200 civilians were killed by Iraqi or US-led coalition airstrikes, artillery fire, or mortar rounds between October 2016 and July 2017.
Most of those victims were described in Health Ministry reports as simply being "crushed." However, the US coalition has acknowledged responsibility for just 326 of those deaths, while stating that it lacks the resources to send investigators to Mosul, according to AP.
Another one-third of the dead were killed in the final violent campaign of Islamic State (IS, formerly ISIS). The causes of the remaining deaths could not be determined, as they were civilians who were trapped inside neighborhoods hit by airstrikes, IS explosives, and mortar rounds from all sides of the fight.
The numbers are likely a low estimation of the actual situation, as hundreds of dead civilians are thought to still be trapped underneath rubble in the city, which saw some of its 44 neighborhoods almost completely destroyed. Thousands are believed to be in mass graves in and around the city, and as many as 4,000 in the natural crevasse known as Khasfa. The AP toll does not include those figures.
Imad Ibrahim, a civil defense rescuer from west Mosul, has been tasked with excavating the dead, mostly in the Old City. "Sometimes you can see the bodies, they're visible under the rubble, other times we dig for hours and suddenly find 15 to 30 all in one place. That's when you know they were sheltering, hiding from the airstrikes," Ibrahim said. "Honestly, none of this was worth it."
AP also spoke to Radwan Majid, who lost both his children in a May airstrike. "There were three Daesh [IS militants] in front of my house, so when the airstrike hit it also killed my children...we can see their bodies under the rubble, but we can't reach them by ourselves," he said. "All I want is to give them a proper burial."
Responding to AP's questioning about civilian deaths in Mosul, coalition spokesman Col. Thomas Veale said "it is simply irresponsible to focus criticism on inadvertent casualties caused by the coalition's war to defeat ISIS." He went on to state that "without the coalition's air and ground campaign against ISIS, there would have inevitably been additional years, if not decades of suffering and needless death and mutilation in Syria and Iraq."
The coalition has not offered an official estimation of deaths resulting from the battle for Mosul, and relies on drone footage, video from cameras mounted on weapons systems, and pilot observations. Meanwhile, Iraqi Prime Minister Haider al-Abadi told AP that only 1,260 civilians had been killed in the fighting.
Chris Woods, head of Airwars, an independent organization that documents air and artillery strikes in Iraq and Syria, told AP "it was the biggest assault on a city in a couple of generations, all told. And thousands died. There doesn't seem to be any disagreement about that, except from the federal government and the coalition," he added.
The databases used by AP in its investigation are from Amnesty International, Iraq Body Count, and Airwars. It also utilized a UN report in its research.
You can share this story on social media: