Blow to NATO? Moscow & Ankara sign S-400 air defense system deal, Turkish media report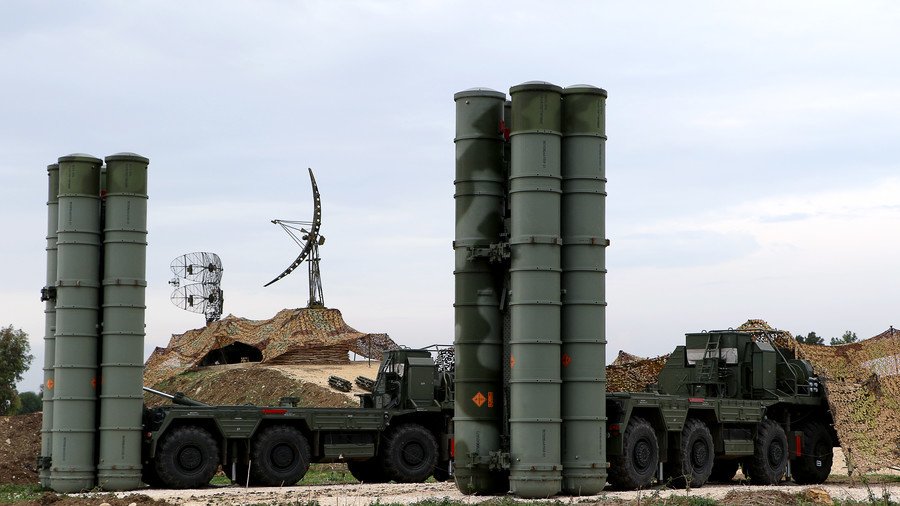 Moscow and Ankara have signed a $2.5-billion credit agreement on the purchase of S-400 air defense missile systems from Russia, according to Turkish media. The move previously caused concern of Turkey's NATO partners.
The deal was signed in the Turkish capital, Ankara on Friday, local media report. The first delivery of two missile batteries is planned for the first quarter of 2020, the Undersecretariat for Defense Industries (SSM) said.
Earlier this week, Turkish Defense Minister Nurettin Canikli said the two countries sorted out the remaining details behind the deal. Turkey will pay 45 percent of the cost in advance, with the remaining 55 percent to be covered by Russian loans, according to the head of Russian state-run Rostec Corporation, Sergey Chemezov.
The S-400 anti-aircraft system is designed to shoot down aerodynamic targets at a range of up to 400km and ballistic missiles up to 60km away. The system can use at least four interceptor missile types suited for different targets, while an S-400 detachment can engage up to 36 targets simultaneously. Such characteristics put the S-400 ahead of the US Patriot system, which "supports only one interceptor missile with a range of 96km," National Interest reported, describing the S-400 as a "game changer" in the Middle East.
Turkey has been engaged in a row over the Russian-made air defense missile systems with its NATO partners. Despite several NATO members such as Bulgaria and Greece possessing Russia's previous generation long-range surface-to-air missile systems, the S-300, Chairman of the US Joint Chiefs of Staff Joseph Dunford said that Turkey purchasing S-400s would be a matter of concern for Washington.
NATO says that the systems are incompatible with the bloc's defenses. Turkish President Recep Tayyip Erdogan dismissed criticism, however, saying Ankara will not rely on protection from its NATO allies. "We take care of ourselves," he said.
In September, Washington pulled out of a $1.2-million arms deal for Erdogan's security guards. The Turkish leader slammed the move, accusing the US of arming terrorists, referring to the US delivering arms to Syrian Kurdish militias which Ankara sees as terrorists. Washington vowed to stop providing weapons to the militias in early December.
You can share this story on social media: