Erdogan slams US for 'arming terrorists' after Washington cancels $1.2mn Turkey weapons deal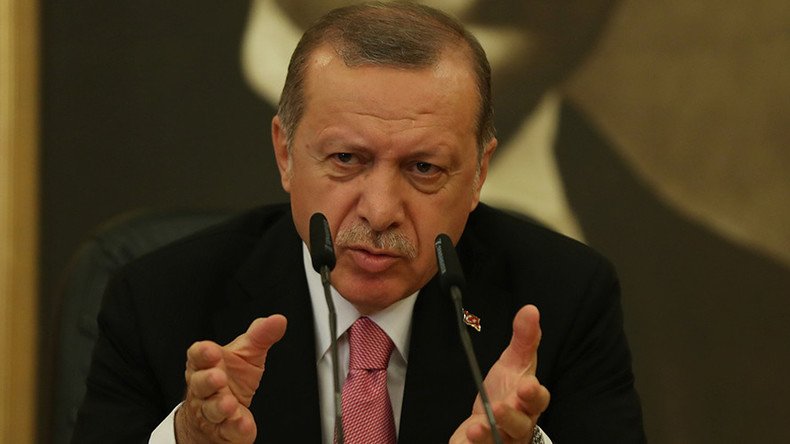 Turkish President Recep Tayyip Erdogan has responded to Washington's decision to pull out of a $1.2 million arms deal for his security guards, accusing the White House of instead choosing to supply weapons to terrorists in Syria.
In an interview with PBS on Monday, Erdogan referred to Syrian Kurds as "terrorists," saying "we need to fight these terrorists with the United States."
"And when we are not able to acquire those weapons from the United States, why are you giving those weapons to terrorists? It's a question that we ask our friends in the United States. And when these questions are not answered, we're feeling sorry, as the strategic partners to the US," he continued.
Erdogan was referring to Washington's decision to arm Syrian Kurds fighting Islamic State (IS, formerly ISIS/ISIL), a step which the White House believes is key to seizing the last major IS stronghold of Raqqa.
The announcement to arm Syrian Kurds came in May, when the US Department of Defense said it would be providing them with small arms, machine guns, armored vehicles and other military hardware.
The US reportedly told Ankara that it expects the return of weapons given to the Kurdish People's Protection Units (YPG) after IS is destroyed, and Defense Secretary James Mattis also promised to give Turkey a list of weapons supplied to the militia.
However, investigative journalist Rick Sterling told RT in June that such a result is highly unlikely, given failed attempts to take back arms in Afghanistan and Libya.
Erdogan's Monday statement came just one day after AP reported that the US was pulling out of a major deal which would have seen the Turkish government purchase $1.2 million in arms, including hundreds of semi-automatic handguns and ammunition.
The decision to pull out of the deal came after Erdogan's bodyguards violently attacked pro-Kurdish protesters during the Turkish president's visit to Washington in May.
The incident, which took place outside the home of the Turkish ambassador to Washington as Erdogan was visiting, resulted in 19 people being indicted by a grand jury for attacking peaceful protesters. Of those, 15 were identified as Turkish security officials.
The official confirmation of the canceled deal came as both US President Donald Trump and Erdogan arrived in New York for the annual UN General Assembly gathering on Monday. Both Republican and Democratic lawmakers have asked for extra precautions to ensure there is not another violent incident by Turkish personnel during the event.
You can share this story on social media: