US retrieving weapons from Kurds after ISIS defeat in Raqqa is 'fairytale'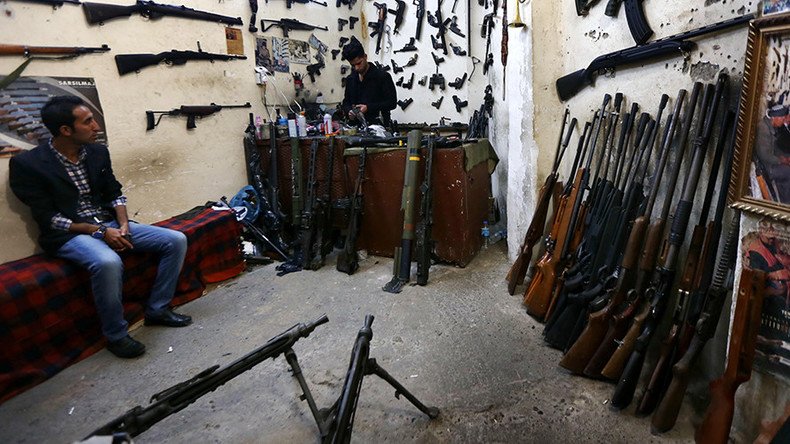 The US is supplying arms to the Kurds in Syria for its own goals, says investigative journalist Rick Sterling. Thinking it will be able to recover those weapons once ISIS is defeated is a fairytale, adds journalist Martin Jay.
The Turkish Defense Ministry said Thursday the US told Ankara it expects the return of weapons given to Kurdish People's Protection Units (YPG) located in Syria after ISIS is destroyed. According to the ministry, US Defense Secretary James Mattis also promised to give Turkey a list of weapons supplied to the YPG militia.
Investigative journalist Rick Sterling says the purpose of Washington's pledge is "to placate the Turks, who are angry the US started supplying weapons to the Kurds" in the SDF (Syrian Democratic Forces).
Given the failed attempts to take back arms in Afghanistan and Libya, it's improbable the US will be able to keep its promise and retrieve weapons from the Kurds, Sterling told RT.
"It's especially unlikely now this message, this communication from General James Mattis has been made public. It's pretty certain the communication was supposed to be confidential, but now it's been made public by the Turkish general. So it's going to upset the Kurds and make it all the less likely that they could ever reclaim those weapons," he said.
In Sterling's view, the US is supplying the weapons for its own goals "which seem to be to break off a part of Syria and to allow the US to dominate a separate part of Syria...in violation of Syrian sovereign integrity."
But the fundamental question, the journalist said, "is what the US is doing sponsoring an army inside Syria to recapture Raqqa."
"Why aren't they working with the Syrian government to do that instead of shooting down the Syrian plane as they did just [on Sunday]?"
"I think there are a lot of crosses and double-crosses going on. We see the contention, the conflict going on now between Qatar and Saudi Arabia. Turkey is allying with Qatar. You've got the US, which is a NATO partner with Turkey, but which is allying with the Kurds. They've all got their own separate goals; they are all saying one thing, but doing something else. All of these countries are doing it in blatant violation of international law. That is why I say it is a kind of a falling out among thieves because they should be following international law, which says that they shouldn't be in Syria in the first place without the invitation of the Syrian government. None of those countries have that invitation or authorization. That's one element," he said.
Another element, Sterling went on to say, is the situation in Raqqa.
"There is a report of collusion between the Kurds and the US with ISIS, whereby they have allowed ISIS military forces to vacate Raqqa and head to Deir ez-Zor, which is in a precarious situation, because for two years you had the city of Deir ez-Zor and an airbase, and parts of that city controlled by Syrian forces and entirely surrounded by ISIS. If there is a huge flood of ISIS fighters, which are allowed to travel unimpeded from Raqqa to Deir ez-Zor, it'll make it all the more precarious in Deir ez-Zor. If we take a very negative, but possibly realistic look at it, we would see that might be the US objective to see the Syrian Arab Army, which is holding out in Deir ez-Zor protecting the population – 100, 000 people – it is possible that the US in collusion is looking the other way, or explicitly allowing ISIS to move there, and they are thinking that ISIS may overrun the Syrian forces in Deir ez-Zor," Sterling said.
Journalist Martin Jay says it is unrealistic to expect the US will be able to get the weapons supplied to the Kurdish militia back once the war is over.
"It depends on whether you believe in fairytales or Father Christmas. I don't imagine that those arms are going to be handed back. They might get a percentage of it back, but I think they'll get a lot of excuses, a lot of farfetched stories about guns lost or destroyed in the confusion of war," he told RT.
The journalist also said the Kurdish question and who is arming them has become "paramount in the last few days with a new Saudi Crown Prince."
READ MORE: Hired gun: Is war with Iran now inevitable under new Saudi crown prince?
"Prince Mohammad bin Salman has told the Kurds in no uncertain terms that if he doesn't get what he wants in Qatar – which is for Turkish troops to be removed completely, he hinted, he said he might look at options on arming the Kurds themselves. So you have an incendiary situation with the Kurds in Northern Syria, which has got so much more complicated in just the last few weeks with the Qatar crisis emerging," he said. "And America is again deliberating and not sure …where to place itself in, so it's straddled both camps. There was a lot of confusion just a week ago from the White House between Trump and the Pentagon over the Qatar question."
The statements, views and opinions expressed in this column are solely those of the author and do not necessarily represent those of RT.
You can share this story on social media: