'What did they expect?' Erdogan rebukes NATO critics over purchase of Russian S-400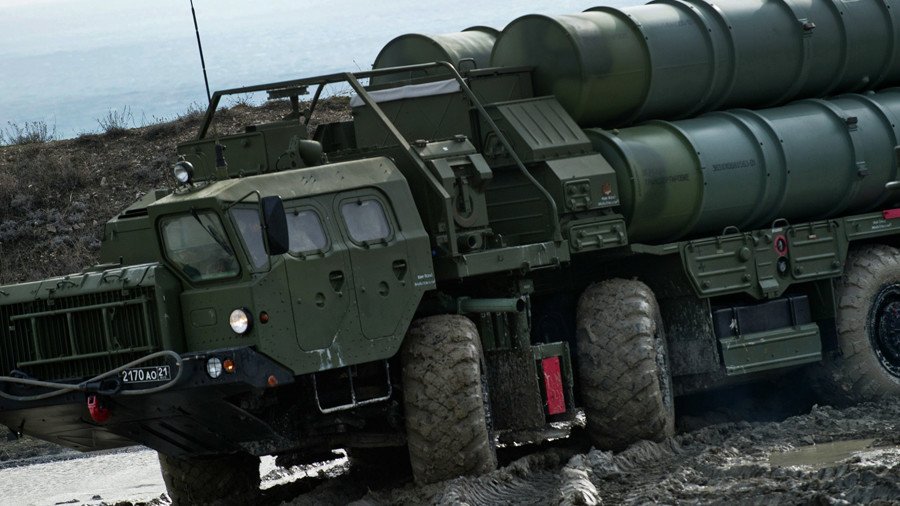 Turkish President Recep Tayyip Erdoğan rebuked the critics of Turkey's purchase from Russia of S-400 long-range surface-to-air missiles, saying Ankara had no intention of waiting for the protection of its NATO allies.
"They have gone crazy because we made a deal for S-400s," Erdoğan said Wednesday in a speech to the ruling AKP mayors in Ankara, as cited by 'Hurriyet'.
"What do you expect? Should we wait for you? We take care of ourselves in every security point. We are taking precautions and we will continue to do so," the Turkish leader said.
He cited the reluctance of US and Israel to authorize supply of combat drones to Turkey as another example of how Turkish security was sidelined by its allies.
"When they did give [drones], their repair and maintenance put us in a difficult position. Now this country [Turkey] has come to a point where it can produce its own unmanned, armed air vehicles. And now they are uncomfortable with that," Erdoğan added.
Earlier on Tuesday both Ankara and Moscow confirmed that the contract of supply to Turkey of Russian-made S-400 air defense systems has progressed after Turkey paid a first installment under the deal. The Pentagon reiterated its concerns over the deal, which, it says, undermines inter-operability of weapons systems among NATO allies.
"We have relayed our concerns to Turkish officials regarding the potential purchase of the S-400. A NATO inter-operable missile defense system remains the best option to defend Turkey from the full range of threats in its region," spokesman Johnny Michael said in a statement.
Turkey has been weighing options for acquiring long-range SAMs for years. In 2013, Ankara surprised other NATO members by announcing that it was going to purchase the FD-2000 system from China, sparking criticism from Washington. Defense observers speculated that Turkey played the China card to put pressure on its allies and get better terms for buying a NATO-compatible SAM system, such as the US-made Patriot PAC-3.
The Chinese deal stalled and was eventually scrapped, with Turkey reportedly unhappy over Beijing's reluctance to hand over the technology behind the advanced system. Last year Ankara announced that it was in talks with Russia over a potential purchase of the S-400.
The announcement came amid souring relations between Ankara and Washington, which chose to support Kurdish militias in neighboring Syria and Iraq, disregarding the Turkish perception of Kurdish troops as a threat to its national security. As the dispute unfolded, the US in 2015 withdrew its Patriot missiles from Turkey's border with Syria after a two-year deployment.
According to reports in the Russian media, Turkey is to get four batteries of S-400 launchers complete with targeting radar and control posts. Some aspects of the deal are reportedly to be finalized, but Russian officials said the contract furthers Russia's geostrategic interests.
You can share this story on social media: