Assange's handle re-emerges after 'Twitter oddities' & weird US Navy post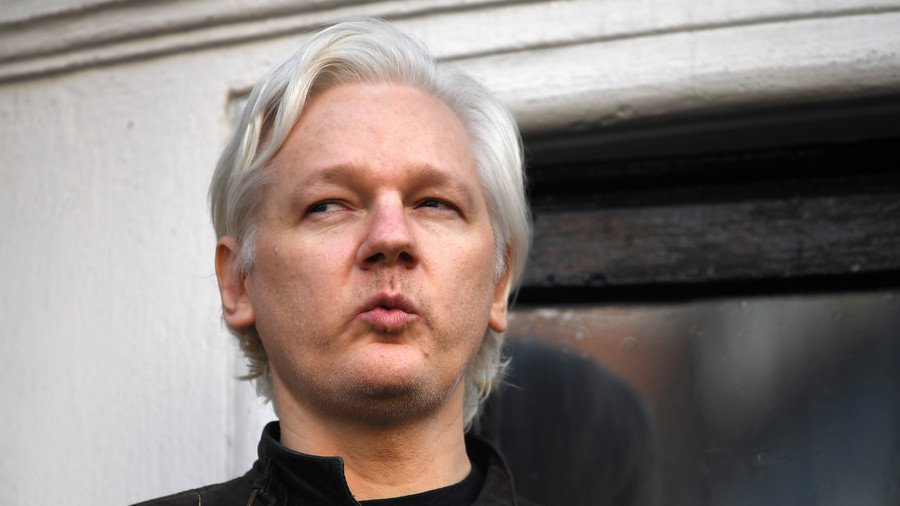 The Twitter account of WikiLeaks founder Julian Assange has re-appeared after mysteriously disappearing Monday morning. The whistleblowing site has also confirmed that Assange is safe and well, despite some Twitter "oddities."
People trying to access Assange's Twitter page Monday were directed to an 'error message' page. Tech site Gizmodo believes the @JulianAssange account was deleted sometime "between midnight and 1am GMT."
READ MORE: Assange's Twitter account mysteriously goes dark
But the handle re-appeared later in the day, posting an old cartoon of Santa Claus making a list of who's naughty and nice, accompanied by a screenshot of the US Navy's official account with the odd statement: "This morning, an inadvertent keystroke by an authorized user of the US Navy Office of Information's Digitial Media Engagement Team caused the trending term 'Julian Assange' to be tweeted from the Navy's official Twitter account."
Assange followed up with a promotional tweet, and a cute corgi, linking it to WikiLeak's donation page.
A statement from WikiLeaks pointed out some "oddities" from the social media platform and the US Navy, but said apart from increased surveillance at the Ecuadorian embassy, the 46-year-old Australian was fine. "Despite some oddities from the US Navy and Twitter today and increased physical surveillance @JulianAssange's physical situation at the embassy remains unaltered--confined without charge in violation of two UN rulings requiring the UK to set him free," the statement read.

WikiLeaks also posted a screenshot of the US Navy's since-deleted tweet which read "Julian Assange" in quotation marks.
It's still unclear what exactly happened to Assange's Twitter account, and it's absence prompted some to speculate that he was being silenced by the social media platform. Others viewed it as a promo stunt.
Another account purporting to be Assange's alternate handle claimed his page was deleted by Twitter ahead of publishing a huge new story, but there was no evidence Assange authored that message himself and the account was subsequently deleted.
The WikiLeaks founder has been holed up in the Ecuadorian embassy in London since 2012, fighting sexual assault allegations in Sweden. He maintains the charges are politically motivated and a way to extradite him to the United States for his whistleblowing activity.
You can share this story on social media: