'Driver did it on purpose': Passenger on fatal Moscow bus crash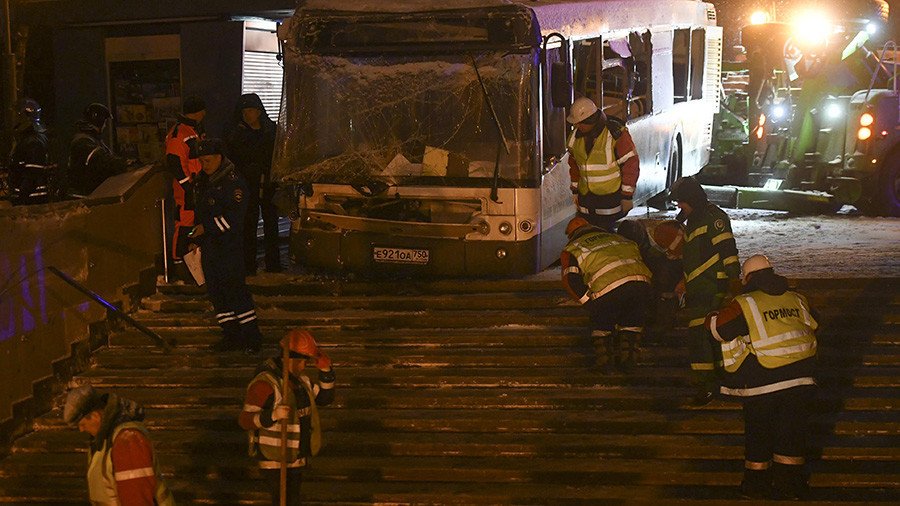 The driver whose bus crashed into a pedestrian underpass in Moscow on Monday was acting with malicious intent, one of the passengers claims. At least four people were killed and over a dozen injured in the incident.
The witness told the Russian media that he was sitting next to the driver and "saw how he did it on purpose." The incident occurred at around 14:50 local time, the passenger recalled, adding that he asked the driver when the bus was going to move out and received the reply: "I'll move at 15:00."
"He seemed calm," the man said of the driver. "Suddenly, for no reason he stepped on the gas and drove out into the sidewalk… I was surprised, there was a bus ahead of him, which he could've driven into if he wanted to stop, or the trees. But he deliberately drove [into the underpass]," he added.
"He drove into the underpass, right there… ramming people… there were so many people under the bus," the witness said, adding that the five or six passenger on the bus, including himself, were unharmed.
The Telegram news channel Mash has obtained the testimony of the driver, identified as 58-year-old Viktor Tikhonov, who said that the vehicle was out of control at the moment of the crash. "There were three people on the bus and I had to wait 15 minutes to resume driving," Tikhonov is cited as saying. He simply wanted to move his vehicle out of the way as another bus had arrived at the stop, the driver added.
READ MORE: 5 killed as runaway bus crashes into underground passage in Moscow (VIDEO, PHOTOS)
"When I took the handbrake off, the bus drove off. I did everything to stop it, but it wouldn't stop. The vehicle is operated with an automatic stick, so I could do nothing," he said, according to Mash. Tikhonov was detained by the police and expected to be questioned and tested for the presence of alcohol or drugs in his system.
The crash happened on Kutuzovsky Avenue, near the Slavyansky Bulvar metro station in the western part of the Russian capital. Four people were killed and about a dozen injured in the incident, police said.
You can share this story on social media: