4 killed as runaway bus crashes into underground passage in Moscow (VIDEO, PHOTOS)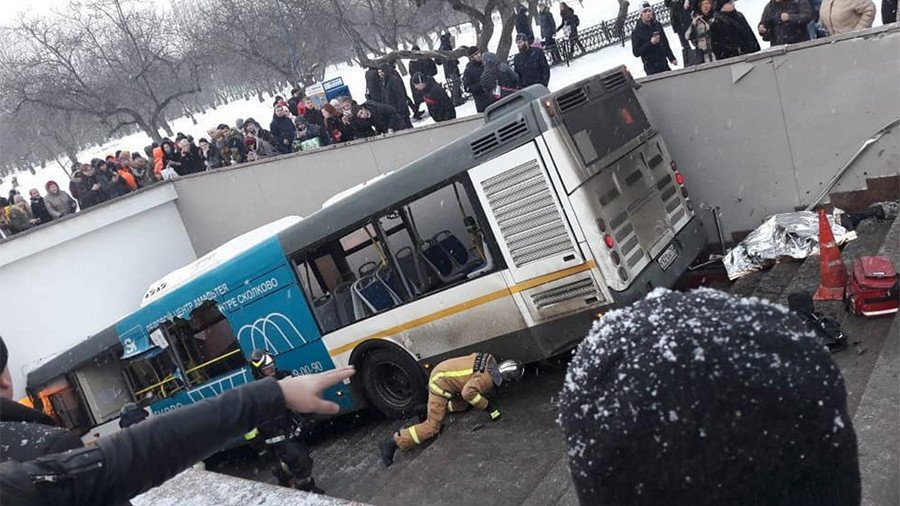 Four people were killed by a bus that crashed down the stairs of an underground passage in western Moscow, police said. The driver of the bus was taken into custody.
Initial reports said that at least five people had been killed, but Moscow authorities later said that the crash had left four people dead.
READ MORE: Moment bus rammed into Moscow pedestrians caught on camera (VIDEO)
The incident happened on Kutuzovsky Avenue, near the Slavyansky Bulvar metro station in the western part of the Russian capital. Four people were killed and about a dozen injured in the crash, police said. Three people were taken to hospital for treatment.
The authorities said they were not treating the incident as a case of vehicular terrorism at this time. Their primary version of what happened is a technical malfunction that caused the bus to veer off the road and down the stairway.
Автобус «Мострансавто» (Московская область) наехал на людей в переходе у метро «Славянский бульвар». На данный момент сообщается о 4 погибших и 15 пострадавших. pic.twitter.com/cUwykiuRMW

— Илья Зотов (@EliasZotov) December 25, 2017
Another version is human error, as suggested by people working for the bus line. According to the driver's supervisor, he might have fallen asleep and pushed the gas pedal accidentally.
The supervisor also told RT that the driver had started his shift at 1:30pm on Monday, about two hours before the crash. He also said that the driver had worked normal shifts of 11 hours for the past two days. The director of the bus company is at the scene of the accident, he added.
You can share this story on social media: