Moment bus rammed into Moscow pedestrians caught on camera (VIDEO)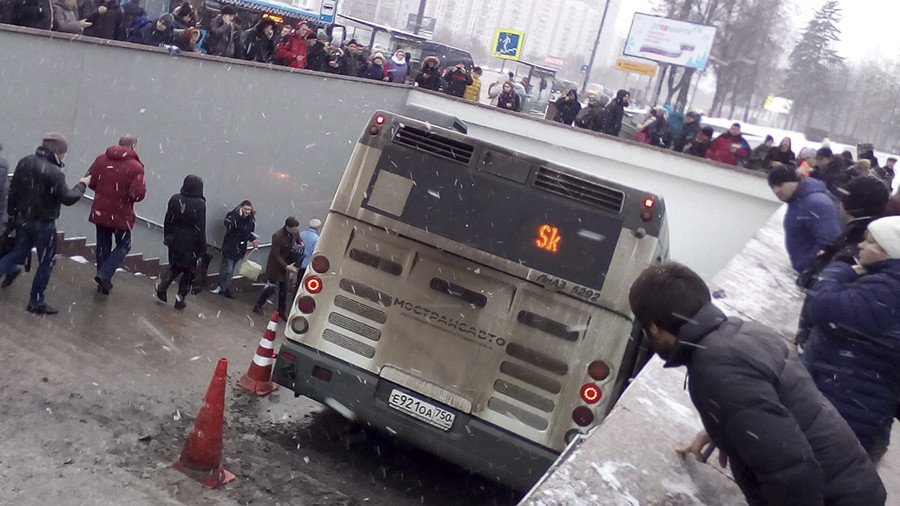 A disturbing video has emerged online showing the moment a bus crashed into an underground passage in western Moscow. At least four people died and over a dozen were left injured, according to preliminary reports.
The footage released on social media shows the bus pause for some time before accelerating into a crowd of pedestrians.
The bus driver was detained following the incident. He said that he tried to stop the vehicle, but the brakes failed, according to the Russian Investigative Committee. The man has been named as 58-year-old Viktor Tikhonov.
READ MORE: At least 5 dead after bus crashes into underground passage in Moscow (VIDEO, PHOTOS)
Reportedly injured in the incident, Tikhonov was taken to hospital where he was questioned by police.
"There were three people on the bus and I had to wait 15 minutes to resume driving," Mash quotes the driver as saying. However, another bus stopped behind Tikhonov's and he wanted to move the vehicle to give way to it.
"When I took the handbrake off, the bus drove off. I did everything to stop it, but it wouldn't stop. The vehicle is operated with an automatic stick, so I could do nothing," he added.
Rejecting speculation that Tikhonov might have been intoxicated at the time of the incident, his son, Aleksey, said that his father never drank at work. "We had breakfast early in the morning. My father wasn't stressed or tired," Aleksey Tikhonov said, as cited by Mash.
According to the driver's supervisor, he might have fallen asleep and pushed the gas pedal accidentally.
The supervisor also told RT that the driver had started his shift at 1:30pm on Monday, about two hours before the crash. He also said that the driver had worked normal shifts of 11 hours for the past two days. The director of the bus company is at the scene of the accident, he added.
The Moscow Region branch of the Transport Ministry said that the bus was in working order before the beginning of the shift on Monday. No anomalies in the condition of the driver had been established either, it added.
You can share this story on social media: