18 dead, over 30 injured as bus bursts into flames after crash in Bavaria, Germany (VIDEO)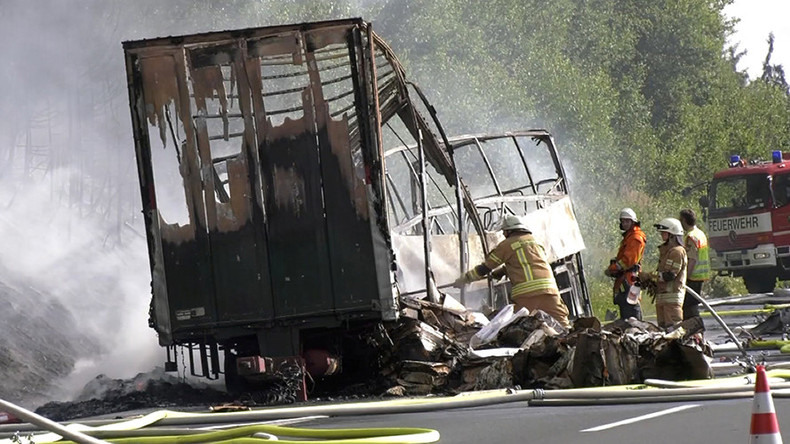 18 people were killed and 31 were severely injured after a tourist bus caught fire following collision with a semi-trailer on a Bavarian highway, a German government spokesman said.
Local police have confirmed all 18 missing passengers are dead.
"It's now established that that all 18 of the missing people on the bus died in this accident," police tweeted.
The bus, carrying 46 passengers and two drivers, caught fire after ramming into a semi-trailer in heavy traffic on the A9 highway near the Bavarian town of Muenchberg, local police said in a statement on Monday.
#BuBraMüb Inzwischen steht fest, dass alle 18 vermissten Businsassen bei dem Unglück ums Leben gekommen sind.

— Polizei Oberfranken (@PolizeiOFR) July 3, 2017
"Unfortunately numerous people – a tour group from [the eastern German state of] Saxony – lost their lives in this burning bus," Steffen Seibert, a government spokesperson, told a news conference earlier on Monday, as cited by Reuters.
"We cannot rule out the possibility that the 17 [passengers] did not manage to get out of the bus," police spokeswoman Anne Hoefer told N-TV news outlet earlier in the day.
"Also, we have to acknowledge that there may be dead," Hoefer added, as sited by Sueddeutsche Zeitung. She said many of the rescued were in shock.
The bus itself has burnt out completely, leaving nothing but the steel frame, Hoefer said.
Police have closed the A9 highway in both directions, dispatching helicopters and ambulances to evacuate the injured.
The passengers were mostly pensioners from East Germany, the newspaper said.
The accident happened not far from an A9 section where 10 people died in a heavy road collision in 1990, N-TV said.
Similar incidents involving large vehicles have occurred in Germany over recent years. In 2014, two coaches and a minibus collided on the A4 highway outside the eastern city of Dresden, killing nine people.
Local police later said a Polish bus ran into the rear of a Ukrainian bus, causing it to skid across the carriageway into the path of another Polish minibus traveling in the opposite direction, according to Deutsche Welle.
You can share this story on social media: