'Our country, not Netanyahu's': Thousands join anti-PM rallies across Israel (PHOTOS, VIDEO)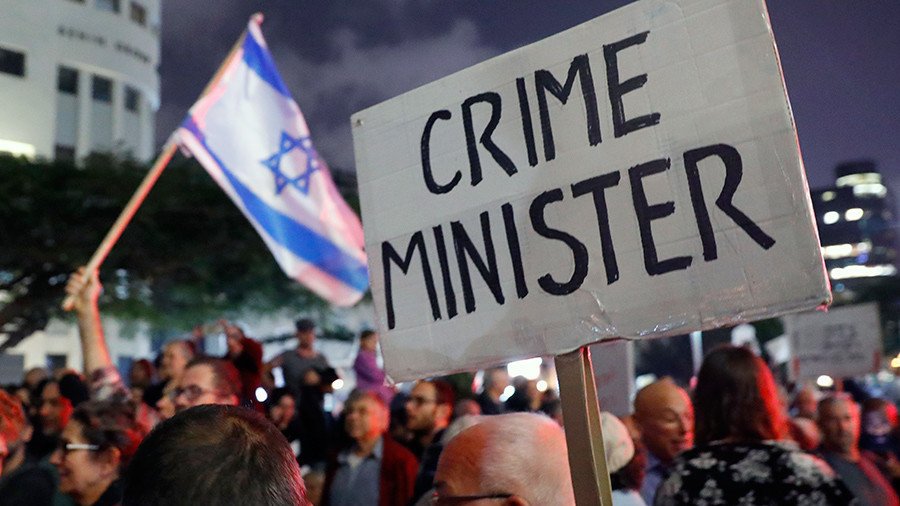 Thousands of people across Israel have joined marches against Prime Minister Benjamin Netanyahu for the fourth consecutive week, demanding his resignation following several corruption allegations.
Protesters gathered on Tel Aviv's Rothschild Boulevard on Saturday, carrying signs reading "big business, politicians, and the underworld" and "go home, corrupt ones!"
"I came to be like everybody, against the corruption, and against the government and against the liars and against all the stories you can hear about," a female protester told Ruptly.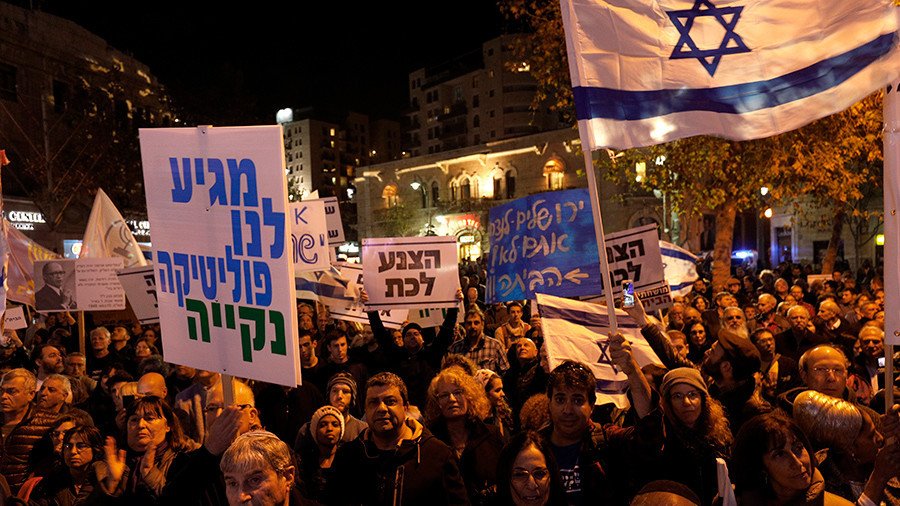 Several protesters held banners saying "Crime Minister," while others shouted: "This is our country, not Netanyahu's country" and "Bibi Netanyahu go to Maasiyahu Prison." Some protesters chanted "Shame, Shame" as they marched.
The rally in Tel Aviv was called for by a former communications director for Netanyahu, Yoaz Hendel. "On Saturday I'm going out to protest – not in Tel Aviv, but in Jerusalem, not 'against' but 'for' the rule of law," Hendel wrote on Facebook.
Former Defense Minister Moshe Ya'alon, who repeatedly attended anti-Netanyahu rallies this December, addressed the crowds. "Corruption gives citizens the feeling injustice is being done. This is a bigger danger than the threats posed by Iran, Hezbollah, Hamas or ISIS," he said.
About 800 people rallied in Jerusalem's Zion Square, chanting "without professionalism there is no state." The demonstrators held banners saying "the police and IDF [Israel Defense Forces] belong to us all" and "we deserve clean politics."
Similar demonstrations were held in the cities of Haifa, Rosh Pina, and Nahariya. Anti-Netanyahu demonstrations across the country gathered over 10,000, according to Haaretz.
Netanyahu is embroiled into two separate corruption probes. One of them centers on him allegedly accepting gifts worth tens of thousands of dollars from billionaire Arnon Milchan. The second investigation is focused on his alleged attempt to strike a deal with the influential Yedioth Ahronoth newspaper for better coverage.
In the meantime, his wife, Sara Netanyahu, faces fraud charges over allegedly wasting $100,000 of public funds.
Earlier in December, Netanyahu was questioned over the corruption scandal. He later took to social media to say that all accusations against him were groundless. "There is nothing new under the sun. This time, too, I answered all the questions, and again I say with absolute certainty: There will be nothing, because there was nothing," he wrote.
You can share this story on social media: