'War minister!' Hundreds rally in Tel Aviv to decry Israeli PM's defense chief pick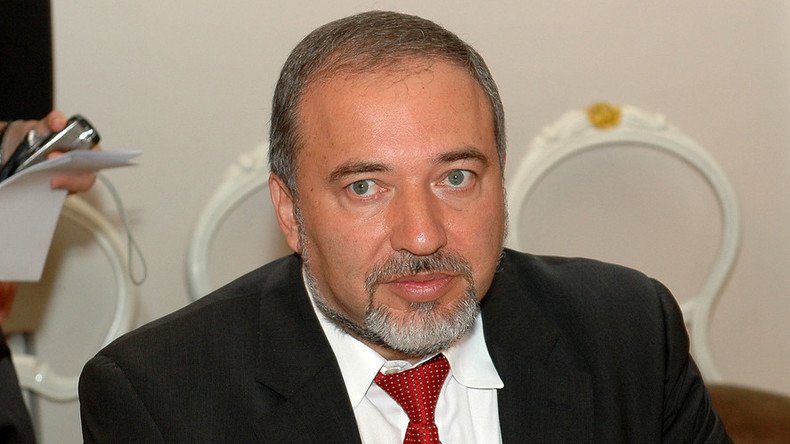 Hundreds of protesters gathered in Tel Aviv on Saturday to protest the far-right turn the government has signaled by choosing Avigdor Lieberman as Defense Minister. Activists say PM Benjamin Netanyahu is putting Israel on a path of war.
Demonstrators came together at HaBima Square in Tel Aviv, saying that by appointing Lieberman to head the military, Netanyahu had created the "most right wing government in the history of the State," Israeli media reported.
"We think this government is a disaster for our country," the Jerusalem Post quoted one of the organizers as shouting. "There is no future or vision."
Protesters held up Peace Now signs and waved green left-wing Meretz party flags as they chanted slogans with Netanyahu's nickname: "Bibi you failed, Bibi go home," and "We don't want more victims, Lieberman is a minister of war."

Netanyahu chose to replace Defense Minister Moshe Ya'alon with Lieberman, the controversial chair of the far-right Yisrael Beiteinu party, rather than form a coalition with the center-left Zionist Union.
Ya'alon resigned from both the government and parliament on Friday, citing "a lack of faith" in Netanyahu, even as the PM reportedly tried to appease him by offering up the job of the foreign minister.
"I informed the PM that after his conduct and recent developments, and given the lack of faith in him, I am resigning from the government and parliament and taking a break from political life," Ya'alon said.
The opposition was outraged by the appointment, stating that it would result in a policy "on the brink of madness."
Tamar Zandberg, a member of the left-wing Meretz party, spoke at the rally, stressing the new level of extremism in the government ranks.
"This week we reached new heights of extremism and an even more right-wing government" she told the crowd. Zandberg also described Lieberman as "corrupt" and "racist."
She urged the Israeli pubic to make a choice between the right and the left and make their voices heard. "This is a week of political deals but it is also a week of choice," she added.
Lieberman is known for his controversial suggestions, such one advocating "cutting off heads" of Arab-Israelis not "loyal" to Israel.
You can share this story on social media: