Gaddafi's son Saif seeks power in divided Libya despite no apparent support base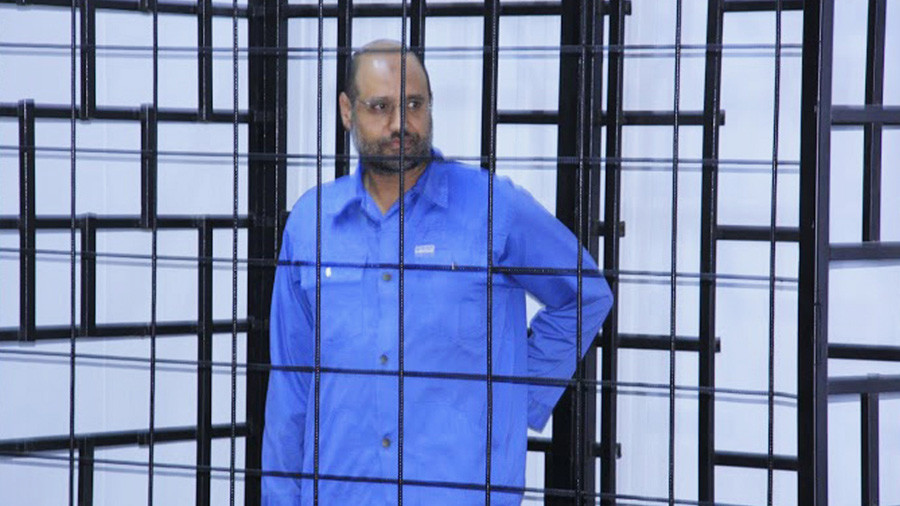 Saif al-Islam Gaddafi, the son of former Libyan leader Muammar Gaddafi, is seeking to become head of state. A family spokesman said he will run in the 2018 presidential election – a ballot that is far from certain to take place.
Speaking to Egypt Today, the spokesman, Basem al-Hashimi al-Soul, said Saif Gaddafi "enjoys the support of major tribes in Libya." Gaddafi was released in June after a six-year imprisonment by militia fighters of the city of Zintan, and will offer Libyans measures to stabilize the country "in accordance with the Libyan geography and in coordination with all Libyan factions," the spokesman said.
The NATO-backed uprising of militant factions in Libya in 2011 resulted in the summary execution of Muammar Gaddafi and plunged the country into a lengthy period of violence and political turbulence. Saif Gaddafi could potentially capitalize on nostalgia for his father's rule, which was marked by economic prosperity and high standards of social security for ordinary Libyans. A London-educated businessman and presumed heir to his father before 2011, he may also draw on his connections with companies that did business in Libya to drum up foreign political support.
However, the appeal of the Gaddafi name should not be overestimated, according to Grigory Lukyanov, a Middle East expert with the Higher School of Economics, who was speaking to RT. Almost 80 percent of Libyans today are 25 or younger, Lukyanov says, with a large portion of their adult lives spent after Muammar Gaddafi's fall. Many of those who remember Libya before 2011 were the driving force of the uprising, taking prosperity for granted and relishing political and economic restrictions of Gaddafi's brand of socialism.
"Despite all the terrors of the civil war, the chaos and destruction of civilian infrastructure, many of the Libyan youth keep a faith for a better future in Libya, and that hope is not rooted in a return to the stability of the Gaddafi regime, [but rather in] a free Libya integrated into the world community," he explained.
The reality on the ground, however, is that the loyalties of gunmen and access to foreign aid may be a more important factor than voter support in the struggle for power. Earlier this month, the Guardian reported that Saif Gaddafi exercises military control over the coastal town on Sabratha and that forces loyal to him are fighting Islamic State (IS, formerly ISIS).
"Saif al-Islam is inside Libya and is committed to his word, which he gave to all Libyans in 2011, when he said that he will remain in Libya to defend its territory or die a martyr for it," the British newspaper cited a written statement from a spokesman for Gaddafi, supplied through a US contact. "The forces who fought in Sabratha against ISIS, the gangs of illegal immigrants and the oil-smuggling mafias were mainly members of the tribes who support Saif al-Islam, and those who were part of the former Libyan Army, also loyal to Saif Gaddafi."
The actual personal power Saif Gaddafi may wield is dubious, considering where he spent the last six years, Sergey Balmasov, senior analyst at the Middle East Institute, told RT. "The man lost his fingers during the imprisonment and could have lost his head, but was spared. The Zintan militias would not have set him free without a reason. There is an obvious political game going on here."
Lukyanov agrees, saying the Saif Gaddafi of today is an unknown force with no clear backing. "Since getting his freedom in 2017, Saif has not made a single public appearance. He has not talked to journalists on camera. People wonder about his physical state after years of imprisonment. Saif al-Islam today is 'terra incognita' that people judge by who he was six years ago."
Balmasov believes the actual effect from Gaddafi's statements would be to muddy the waters before the planned poll. The ballot is being prepared by the UN-backed Government of National Accord (GNA) of Prime Minister Fayez al-Sarraj, which was formed under a shaky unity agreement signed in December 2016. However, organizing a nationwide vote would mean cooperation between various factions in the country as well as foreign players involved in Libya, and such an agreement is far from being reached.
The GNA's actual power in Libya is limited at best and relies on militia protection for the personal safety of cabinet members. Sarraj this month sought a security guarantee from the US, but failed to acquire one, the Guardian reported. "They wanted a military guarantee from the United States that we would basically defend their block in Tripoli," a US source told the newspaper. "Is the US going to use military force against actors against the UN plan in Libya? Absolutely not."
Among various factions and figures challenging the GNA is General Khalifa Haftar, who holds a power base in the east of Libya and has a record of fighting Islamist forces. He has the backing of Egypt, the UAE and Russia, and is also considered a legitimate power player in Libya by European nations – despite his opposition to the UN-backed government in Tripoli and insistence that uniting Libya through military force is a viable option that may be preferable to diplomacy.
Considering Haftar's rivalry with Sarraj, Saif Gaddafi's reappearance on the political scene in Libya may be a move orchestrated by the general, Balmasov believes. "The Zintan militias had acted against the militias in Tripoli and at the same time have friendly ties with Haftar. Haftar may find such a development beneficial to his agenda," he told RT.
You can share this story on social media: