Young man violently beats elderly German woman in broad daylight, motive unclear (SHOCKING VIDEO)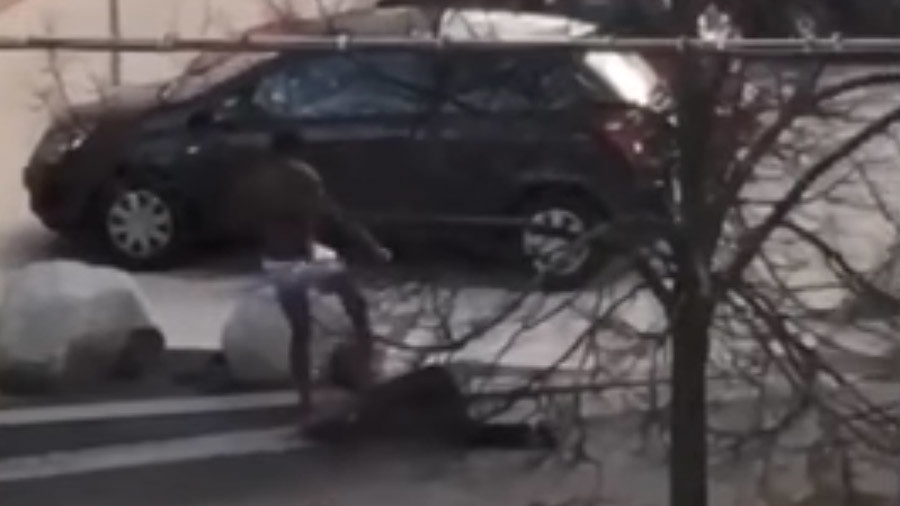 A young man of African origin was filmed violently attacking an elderly woman on the street of the German city of Nurnberg. The suspect was sent for psychiatric examination; his motive remains unclear.
The footage shows the man wearing only a pair of shorts walking causally along the street. As an elderly woman passes by he suddenly strikes her such a violent blow that he knocks her to the ground. The video also shows that there was no argument or any other form of interaction between the two before the attack.
A video of the incident was first obtained by a local media outlet and then published on YouTube by an activist group. The German police confirmed that the incident had been filmed and posted on social media.
The woman was taken to hospital, and it was found that she had sustained life-threatening injuries, including several bone fractures. According to a police statement, the man attacked the woman and repeatedly hit her in the head after knocking her down. Her life is still in danger, according to police, who added that the suspect had been sent for psychiatric evaluation in a "specialized clinic."
READ MORE: 8 people, including a minor injured in Munich stabbing attack
Witnesses to the incident were quick to intervene. They stopped the attacker from further beating the victim, and held him until the police arrived. According to a police statement, the man surrendered without any resistance.
The suspect was not previously known to the authorities, the statement said. Later, the police said that he was a "man from Africa," 23 years old.
Police also opened an attempted murder investigation. However, the causes of the incident remain unknown. Police found no evidence that the attacker and his victim knew each other, as reported by the dpa news agency.