'Mass sex assaults' by refugees in Frankfurt on New Year's Eve were made up – police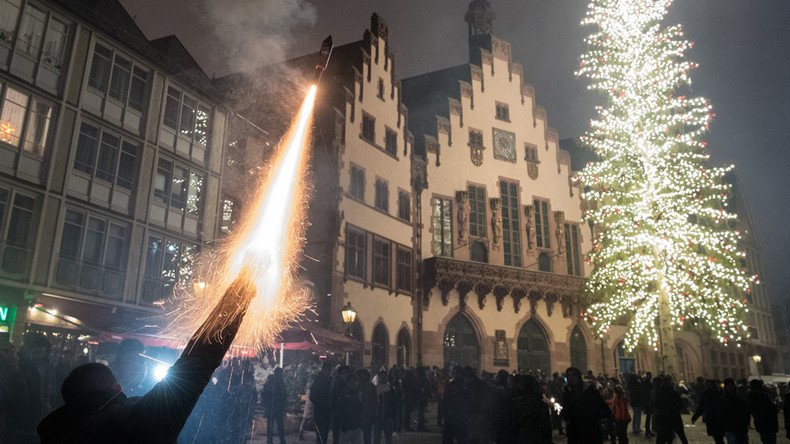 Reports of mass sexual assaults on women in Frankfurt on New Year's Eve allegedly committed by dozens of drunken refugees, and which initially appeared in Germany's Bild newspaper, were made up and are "completely baseless," police said.
The story about mass sexual assaults by refugees in the Fressgass Street area in downtown Frankfurt was reported by Bild earlier in February. The article has since been taken down.
One of the victims, Irina A., 27, told Bild: "They [the migrants] grabbed me under the skirt, between my legs, my breasts, everywhere….More and more of these guys came. Their hands were everywhere," the Express said, quoting the original report.
Her words were supported by Jan Mai, a local pub owner, who said that a mob of Arabs was "highly aggressive, there was shouting and hand gestures."
"When I came in, the whole place was full with a group of around 50 Arabs. They did not speak German, drank our guests' drinks and danced towards them. The women asked me for help because they were being attacked. The mood changed completely," he told Bild, as cited by the Express.
It was claimed the migrants came from a refugee center in Hesse state, where Frankfurt is located, the Local said, citing the original report.
Police started an investigation into the alleged incidents and on Tuesday released a report stating that the allegations of mass sexual assaults had been invented.
"There were no massive mob-like attacks by masses of refugees in Fressgass [Street]. The allegations were groundless," police said.
In the article several people "reported about sexual assaults, bodily injuries, thefts and extremely aggressive behavior of masses of refugees. Media interest in these descriptions was very high. The police were not aware of these circumstances," the statement said.
According to police, "interviews with alleged witnesses, guests and employees led to major doubts with the version of events that had been presented.
"One of the alleged victims was not even in Frankfurt at the time the allegations are said to have taken place," the report said.
The Bild editorial team quickly apologized "for this inaccurate reporting and the accusations against those concerned."
"This reporting does not correspond in any way to the journalistic standards of Bild," the newspaper said in a statement.
Bild said that the alleged witnesses – the pub owner and his staff– talked of mass sexual assaults to other media outlets.
"We apologize for our own work. I'll shortly announce what Bild will do about it," online editor-in-chief Julian Reichelt tweeted.
The Bild story appeared to prompt comparisons with the Cologne attacks committed on New Year's Eve in 2015. Back then, groups of North African men sexually assaulted hundreds of women in the city.
A German police report from November revealed the latest figures on the crimes committed on New Year's Eve 2015 across Germany: 881 sexual offenses involving over 1,231 women. The victims were almost all young women.
Apart from Germany, similar sex attacks allegedly took place on New Year's Eve that year in Sweden, Austria, Finland and Switzerland.
You can share this story on social media: