Italian police violently disperse anti-fascist protesters in Modena (VIDEO)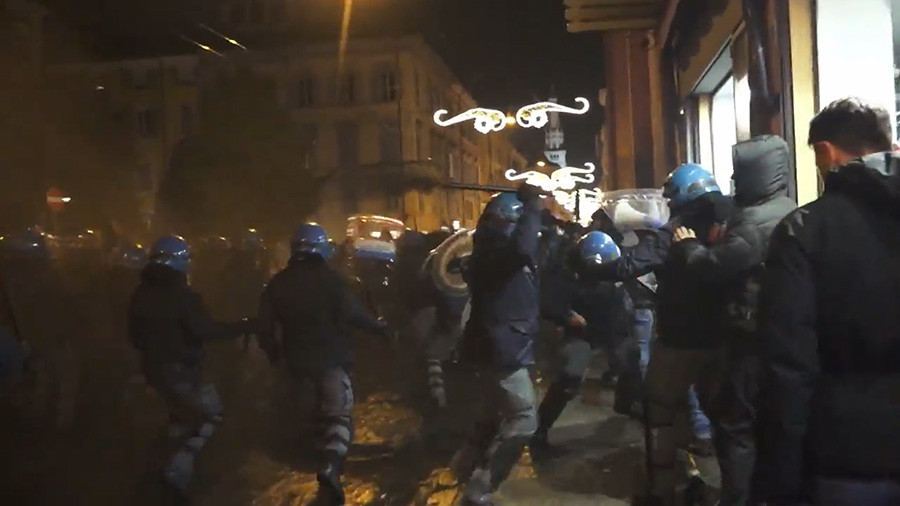 Italian police have clashed with anti-fascist protesters who sought to disrupt a rally organized by far-right groups in the Italian town of Modena. A Ruptly video shows the officers beating demonstrators lying on the ground.
The incident took place on Friday evening. A local far-right group called 'Defend Modena' organized a rally in the center of the town to protest against the Jus soli – or the right of the soil – a legal principle that allows anyone born on the territory of a state to obtain its citizenship. Italy currently does not use this principle in granting citizenship but local lawmakers in Modena have discussed the possibility of its introduction.
The far-right protest prompted local activist groups to stage as many as four counter protests on the same day. While most of them were peaceful, one ended up in scuffles between the demonstrators and police.
A group of anti-fascists and anarchists consisting of between 250 and 300 people attempted to reach the area where the far-right demonstrators were holding their rally, but police blocked their way. The anarchists then threw thunder-flashes at the officers, prompting them to respond, the local Gazetta di Modena newspaper reported.
Footage provided by the Ruptly video new agency shows the anti-fascists throwing what look like thunder-flashes, firecrackers and smoke pellets at the police with the officers in riot gear subsequently charging into the crowd. The video also shows officers beating people lying on the street with batons and attempting to detain some of the protesters by force.
According to local media, police also used water cannon to disperse the crowd. The protesters also reportedly engaged in clashes and scuffles with police on several occasions. However, there were no reports of any serious injuries, although local media said that some people were "bruised" in the brawls and at least two people were arrested.