US holds massive military drills aimed at North Korea despite warnings from Moscow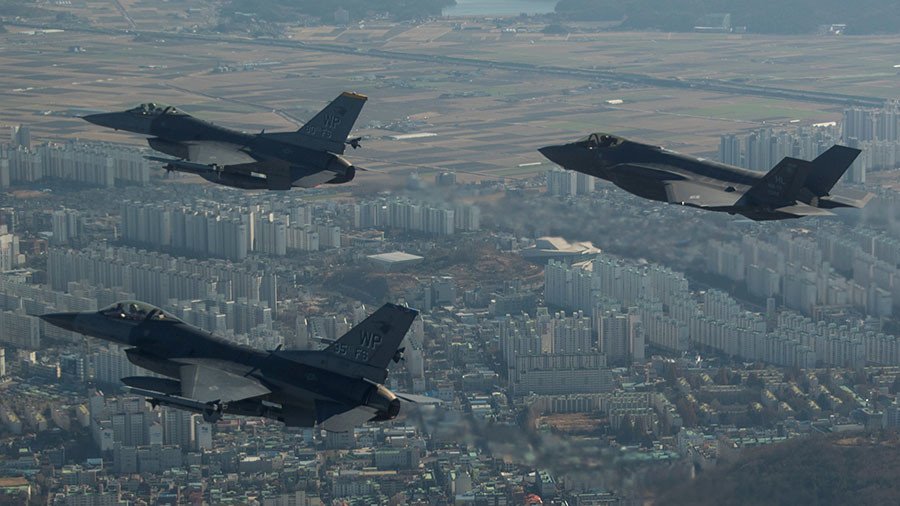 US and Japanese warplanes held joint exercises south of the Korean peninsula, in what has been described as one of the largest military drills to date aimed at North Korea. Moscow warned that the exercises will "increase tension" with Pyongyang.
Four Japanese F-15 fighters on Tuesday held drills with American B1-B bombers, F-35 stealth fighters and F-18 combat jets above the East China Sea, south of the Korean peninsula, Japan's Air Self Defence Force (ASDF) confirmed.
Described as among the largest joint exercises of its kind to date, the drill included American aircraft stationed in Guam and Japan.
"The drill was meant to bolster joint operations and raise combat skills," the ASDF said in a statement, as cited by Reuters.
On Monday, Russian military chief General Valery Gerasimov warned Japan that participating in military exercises with the United States around the Korean Peninsula could escalate regional tensions with North Korea.
During his visit to Tokyo, Gerasimov told Japanese Defense Minister Itsunori Onodera that military drills aimed at pressuring Pyongyang to abandon missile testing could "increase tension and bring instability." "We believe that the issue should be resolved only through political and diplomatic means," said Gerasimov, as quoted by Russian media.
Washington, Seoul and Tokyo began joint "missile tracking" drills on Monday. The new round of military exercises comes just days after the US and its allies concluded massive air maneuvers over the Korean Peninsula.
Moscow and Beijing have advocated for a "double freeze" agreement, in which North Korea would halt missile testing in exchange for the US curtailing military drills in the region.
"These exercises fuel the flames of an already existing conflict where we are having hundreds of military planes fly along the border with North Korea, this is particularly dangerous. It is really necessary to look seriously at the offer of freezing these military exercises, freezing this nuclear program and engaging in dialogue, something that we have not just seen the North Koreans and Washington getting together on," author and human rights attorney Eric Sirotkin told RT on Monday.
Washington has not changed its hardline stance on North Korea's nuclear program and missile testing. The US military is reportedly in talks with South Korea on the timing of large-scale annual military exercises that would likely coincide with next year's Winter Olympics in PyeongChang. However, in an uncharacteristic move towards de-escalation, Washington and Seoul are considering delaying the joint military drills until after the winter games in February in a bid to reduce tensions with North Korea, according to separate reports by Bloomberg and the Financial Times.
You can share this story on social media: