US, Japan & S. Korea launch two-day 'missile tracking' drills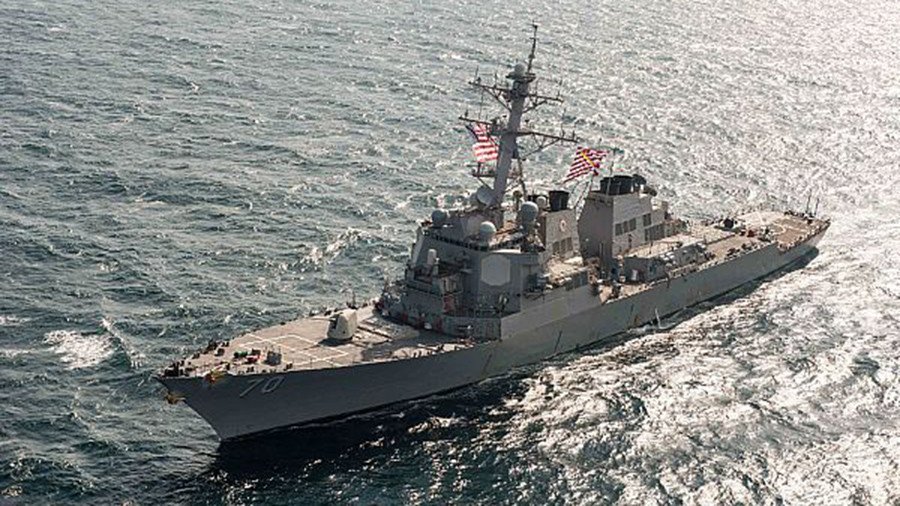 Washington, Seoul and Tokyo have have begun joint "missile tracking" drills, South Korea's military said. The new round of military exercises comes just days after the US and its allies concluded the largest ever air maneuvers over the peninsula.
The exercises kicked off Monday amid speculation that North Korea may soon test launch a submarine-launched ballistic missile (SLBM), South Korea's military announced, according to the Yonhap news agency.
Two US Aegis destroyers – USS Stethem and USS Decatur – are leading the war games along with South Korea's Seoae Ryu Seong Ryong Aegis destroyer, and Japan's Chokai Aegis vessel. During the exercises, the three navies aim to polish their skills at detecting and tracking potential ballistic missiles using a computer-simulated training module.
The drills which are hosted by Japan will conclude Tuesday, December 12, and are aimed at increasing the allies' ability to respond to the North Korean threat, Japan's Navy said in a press release.
The allied navies will be "practicing tracking an object and sharing information on it among the three countries," a Japanese defense official told AFP, adding that the simulations "will translate into a measure against ballistic missiles."
The S. Korean and Japanese military said the current activities are the sixth of its kind to take place in the last two years.
"(We) are keeping a close eye on North Korea's missile facilities," a South Korean defense official told Yonhap. "There has been no indication detected of any imminent provocation, but we are fully prepared for a response."
The new round of military exercises near N. Korean borders began just days after the US-S.Korean Vigilant Ace drills concluded Friday. A total of 12,000 personnel and over 230 military aircraft took part in the maneuvers which also included the deployment of a B-1B bomber as well as F-22 and F-35 stealth fighters. The exercises have been slammed by Pyongyang, which said it proves that US President Donald Trump is "begging" for nuclear war.
North Korea has repeatedly criticized the joint drills between the US and South Korea. Last month, the North's ambassador to the UN ruled out negotiations with Washington, citing America's "hostile policy" against his country and the continuing joint activities of Washington and Seoul. Russia and China have long urged the US and North Korea to accept their proposed "double freeze" plan which would see Pyongyang suspend its nuclear and ballistic missile tests in exchange for a pause in joint US-South Korea drills. That proposal, however, has firmly been rejected by the US.
You can share this story on social media: