Fugitive ex-Georgian leader Saakashvili recaptured in Kiev after supporters helped him break free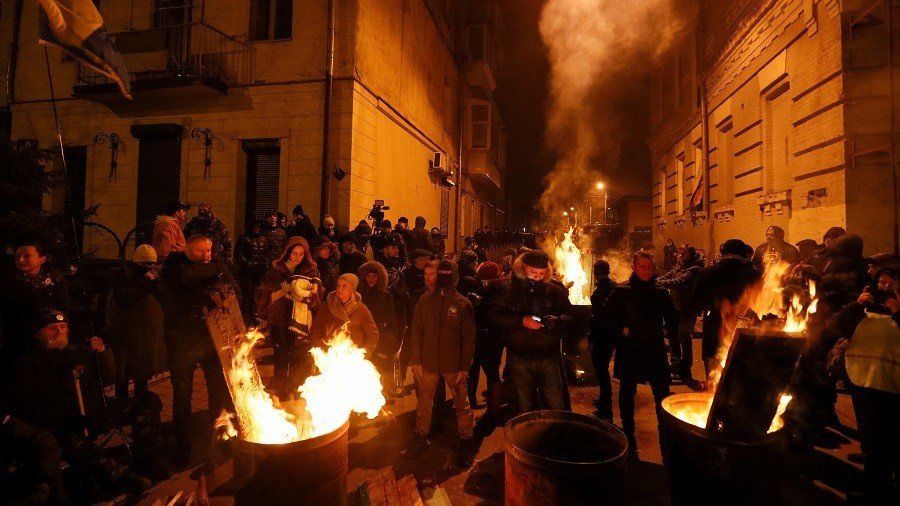 The ex-president of Georgia turned Ukrainian opposition leader, Mikhail Saakashvili, has been recaptured in Kiev. Authorities put him on a wanted list after supporters helped him break free from police custody earlier this week.
Saakashvili was placed in a temporary detention facility, General Prosecutor Yury Lutsenko said. The former Governor of Ukraine's Odessa region and founder of the opposition Movement of New Forces was taken into custody "in accordance with an arrest warrant" after police tracked him down in Kiev, Lutsenko wrote on Facebook.
Authorities attempted to detain Saakashvili for questioning earlier this week, but his supporters clashed with police in an attempt to prevent the detention.
Saakashvili's supporters immediately flocked to the building where their leader was being held, surrounded by police in riot gear. To protest his detention, Saakashvili announced he was embarking on a hunger strike.
"He declares the start of an open-ended hunger strike," one of Saakashvili's lawyers, Ruslan Chernolutsky, told the crowd outside the detention facility. "He also says that he will refuse force-feeding."
On Tuesday, officers conducting a search in Saakashvili's apartment in Kiev, dragged him off the roof and bundled him into a car. His supporters, however, blocked the streets and broke the door of the police van and freed Saakashvili. After being sprung, Saakashvili led a march on parliament, where he encouraged his supporters to topple the current Ukrainian leadership.
The former Georgian leader was once a close ally of Ukrainian President Petro Poroshenko who granted him citizenship and appointed him Governor of Odessa Region. Their friendship did not last long, though, with Saakashvili resigning in November 2016 to form his own political party, the Movement of New Forces. The governor turned opposition leader accused Ukrainian authorities, and particularly the leader of the "gang," Poroshenko, of corruption and "robbing" the country.
Kiev stripped the 49-year-old of his Ukrainian citizenship in July. He is also suspected of receiving financial support from a group allegedly linked to former president Viktor Yanukovich, who was deposed by the Maidan coup in 2014. He could potentially face up to five years in prison if found guilty.
The court will now decide Saakshvili's fate, Lutsenko said. The prosecutor general added that security forces managed to recapture Saakashvili without "extreme violence and bloodshed."
Saakashvili is also wanted in Georgia on criminal charges linked to embezzling hundreds of thousands of dollars from the state, which, according to prosecuting authorities, were splashed out on lavish parties and expensive gifts. Saakashvili denies the charges and has also dismissed accusations of abuse of power during the crackdown on anti-government protests. In February 2015, Georgia issued an extradition order for Saakashvili but Ukraine denied the request.
Facing the threat of possible prosecution in Georgia, Saakashvili made a dramatic return to Ukraine, illegally crossing the border from Poland in September. Ever since his return, he has staged massive protests throughout Ukraine, calling for Poroshenko to leave office.
You can share this story on social media: