Ukraine police open criminal case after former Georgian leader Saakashvili breaks through border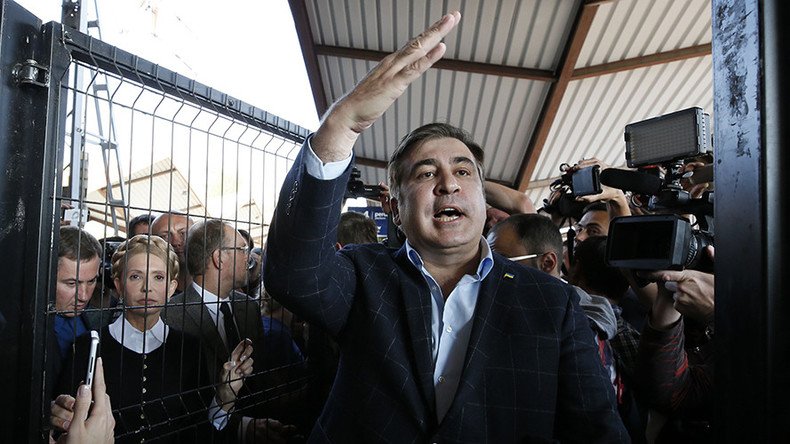 Ukrainian police say they have opened criminal proceedings into the illegal border crossing of former Georgian president and Odessa governor Mikhail Saakashvili, during which he and his supporters publicly forced their way through a cordon on the Polish border.
Saakashvili crossed into Ukraine in a quest to regain his Ukrainian citizenship of which he was stripped in July while being away from the country. The politician defiantly vowed to challenge the authorities and return to Ukraine, recruiting a crowd of supporters in the opposition and alerting the media.
Local police in Lvov issued a statement saying the case was opened under an article of the criminal code: "Illegal smuggling of people through Ukraine's state border," and that perpetrators could face up to five years in jail.
The controversial Ukrainian website Mirotvorets, which lists so-called "enemies of Ukraine" and publishes personal data of people considered hostile to the state so that they could be targeted, added Saakashvili to the list of persons who illegally crossed the border. It also described the incident as an "attack on the border guards during performance of their duties."
Flanked by dozens of associates chanting "Misha! Misha!" (Saakashvili's nickname) and waving yellow-and-blue Ukrainian flags, the currently stateless politician made his way to the Shehyny checkpoint, which was closed by Kiev's authorities earlier Sunday, according to media reports. Former Ukrainian Prime Minister Yulia Tymoshenko was on hand to welcome him back.
The crowd was met by a line of uniformed border guards, blocking the way with arms locked.
Scenes of chaos followed, as Saakashvili's supporters exchanged angry words with the unarmed officers. Finally, several began to push against the human chain until it broke, allowing Saakashvili free access through the border checkpoint.
"The people literally carried me over the border, I did not expect this, and the police did not stop them, as they are on the side of the people," declared a beaming Saakashvili to Ukrainian channel NewsOne, adding that he planned to travel to the nearby city of Lvov "to defend his legal right" to Ukrainian citizenship. He was also planning to address a crowd there.
Ukrainian border police had been threatening throughout Sunday to turn Saakashvili's triumphant return into a damp squib. A Kiev-bound train leaving the Polish border city of Priemysl – where Saakashvili's family and staff booked an entire carriage – was delayed by over two hours, with neither Poland nor Ukraine accepting responsibility or even publicly admitting that the holdup was caused by a single passenger.
Ukrainian authorities said they had arrested over 100 people who had gathered at the Krakovets checkpoint where Saakashvili had planned to enter the country, including some suspected of carrying illegal firearms.
The failure of his initial plan forced Saakashvili to improvise and possibly risk humiliation, as he took the bus to Shehyny.
Saakashvili relinquished his Georgian citizenship when he accepted an offer to become the governor of the coastal region of Odessa in 2015 at the personal behest of President Petro Poroshenko.
However, the two men fell out, and Saakashvili resigned in November 2016, blaming Poroshenko for corruption in the country and stating that he intended to form his own political movement. Two months ago, Poroshenko personally signed an order annulling Saakashvili's citizenship, though no official reason was made public.
Ukraine's border service called what occurred "an intrusion into Ukrainian territory in factual terms," while claiming that some of Saakashvili's supporters had been "specially trained" for the clashes that preceded the "illegal crossing." Earlier, officials said Saakashvili's passport would be confiscated upon entry and the politician deported back to Poland.
Saakashvili's prospects in Ukraine remain murky. With Kiev being a member of the UN Convention on the Reduction of Statelessness, it may now be more difficult for authorities to deport him to another state without papers.
According to polls released before Saakashvili was stripped of his Ukrainian citizenship, his political movement's rating hovered at under 2 percent, but this could change and possibly receive a boost from the recent publicity. Another possibility remains extradition to Georgia where Saakashvili was president between 2004 and 2013. Tbilisi has filed an official request with Kiev. If sent there, Saakashvili faces charges of abuse of power while in office. He maintains the charges are politically-motivated.
You can share this story on social media: