Wanted ex-Georgian president Saakashvili loses Ukrainian citizenship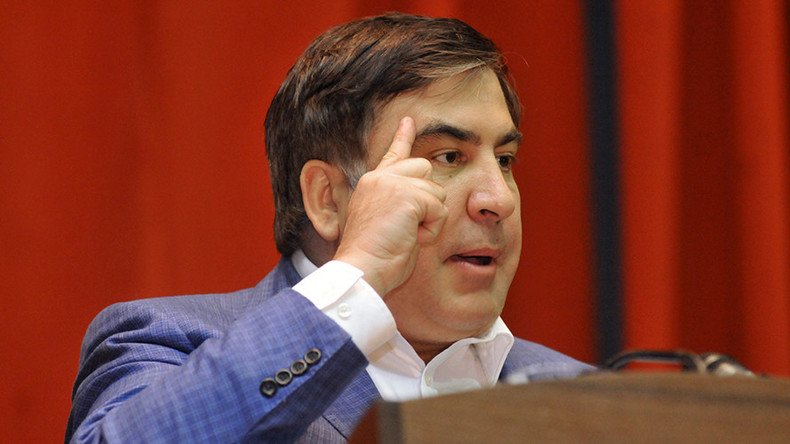 Ukraine's migration service says President Poroshenko has revoked the Ukrainian citizenship of Mikhail Saakashvili, whom he picked as the governor of Odessa Region. The ex-Georgian president, who is wanted at home, lashed out at Poroshenko's "oligarchic regime."
The decree hasn't been published on Petro Poroshenko's website, but the move has been apparently confirmed by Saakashvili himself, who hit back at the Ukrainian president and former ally with a long Facebook post.
Referring to himself as "a simple Ukrainian," a fuming Saakashvili accused Poroshenko of colluding with the Georgian government, calling both "oligarchic regimes." He also vowed to "fight for my legal right to return to Ukraine," though ruling out applying for refugee status, and warned Poroshenko of yet another Ukrainian revolution to come.
The State Migration Service said that Saakashvili lost his citizenship due to providing false information in the form he filled when applying for his Ukrainian passport two years ago.
According to the papers submitted by Saakashvili, he was not under investigation in Ukraine or any other country.
However, there are several cases of embezzlement and abuse of power, launched against the controversial politician in Georgia where he has been put on a wanted list, the migration authorities said.
It is worth noting that charges against Saakashvili were well-known when President Poroshenko granted him Ukrainian citizenship with a special decree and assigned him the governor of the country's Odessa Region in May 2015.
The move by Kiev puts the 49-year-old in a tricky situation as his Georgian passport was also annulled after he became Ukrainian due to dual citizenship being prohibited in Georgia.
The press service of the ex-Georgian president's party, Movement of New Forces, told RIA-Novosti that Saakashvili is currently in the US.
Prior to the confirmation, Saakashvili was defiant when asked on the possibility of losing Ukrainian citizenship by Novoye Vremya website.
"I'll be sitting here in Kiev. There'll be no problems. I'll be citing in Kiev without the citizenship. I'll be just walking the Maidan [the city's main square]. I live not far from here," he said.
Saakashvili was forced to leave the position of Odessa governor in November last year after spoiling relations with the Ukrainian authorities, which he vigorously supporting during the 2014 coup.
READ MORE: 'Wack-job populist' Saakashvili gets water splashed in his face by 'corrupt' interior minister
He blamed his former university friend Poroshenko of betrayal, accusing his government of corruption and sabotaging crucial reforms in Ukraine.
Saakashvili became the President of Georgia in 2004 after the so-called Rose Revolution, which was welcomed by Washington, and remained in power until 2013.
As head of state, Saakashvili is remembered for both his liberal reforms and his crackdown on the opposition. In August 2008, Saakashvili launched an attack against the breakaway Republic of South Ossetia despite Russian peacekeepers present there, which forced Russia to intervene and enforce peace.
The then-Russian President and current Russian PM Dmitry Medvedev has reacted to Saakashvili's debacle with the citizenship by calling the situation a "tragicomedy." In a Facebook post, Medvedev highlighted the way Poroshenko first granted, and then took away the Ukrainian citizenship to Saakashvili, eventually "agreeing to his extradition to Georgia." The story presents "indisputable evidence of the highest moral qualities of the two," Medvedev quipped, adding a Queen quote, "Show must go on."
READ MORE: US to pay salaries of Governor Saakashvili's team in Odessa, Ukraine
Throughout his political career, Saakashivili, who studied to become a lawyer in America, has been positioning himself as a strong US ally. He urged NATO membership for Georgia, armed the country's military with US weapons and hardware, also sending to troops to Iraq. After being assigned the post Odessa governor, Saakashivili claimed that it will be the US government which will pay his salary, and the FNI will be training a local anti-corruption unit.
You can share this story on social media: