'Wack-job populist' Saakashvili gets water splashed in his face by 'corrupt' interior minister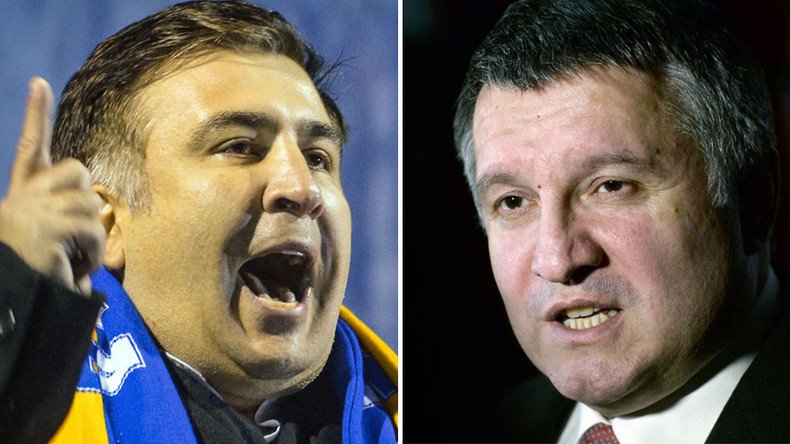 Mikhail Saakashvili, the ex-Georgian president who is now governor of Odessa, got a glass of water thrown in his face by Ukrainian Interior Minister Arsen Avakov as an angry slanging match over who is more corrupt spilled over into violence.
The news of the incident comes less than a week after Ukraine's prime minister, Arseniy Yatsenyuk, was dragged violently from the rostrum by his crotch by another MP during a parliament session.
The water fight between Saakashvili and Avakov occurred right in front of the country's president, Petro Poroshenko, who was present at a session of reform council.
It only took a straightforward question by Avakov to Saakashvili about whether he has any links to a Russian businessman who owns the Uralchem fertilizer company for the ex-Georgian president to blow his top.
"Nobody has the right to talk to Mikhail Saakashvili this way… You're a corrupt minister while I am an honorable man," Avakov later quoted the Odessa governor as saying. According to a deputy who witnessed the rant, the interior minister also threw a glass of water at Saakashvili, who added that "he has nothing but his good name."
Avakov wrote on his Facebook page that he refrained from punching Saakashvili, and simply threw a glass of water in his face instead.
"Never ever in my life have I seen such a wack-job populist," Avakov said of Saakashvili.
The politicians then used such insults as "thief," "clown," "hawkish rascal" and "bag of wind" to describe each other.
READ MORE: Reverse Midas: Everything Saakashvili touches turns to rot
"Get out of my country!" Avakov finally ordered Saakashvili, prompting Yatsenyuk to repeat the jibe and describe the Georgian-born politician as a carpet-bagger.
Georgia's former president was not to be outdone, however, insisting that he was just as good a Ukrainian citizen as Yatsenyuk, with the only difference that he "had not robbed Ukraine."
"I insulted no one, and did not use foul language in return for obscenities," Saakashvili wrote on his Facebook page. "I only said that Avakov and Yatsenyuk are thieves and that Avakov should go to jail."
"I stand by every word I say," Saakashvili added. "It's time for the personalities who have brought the country to the brink of ruin to pay for their words and actions."
Saakashvili, who was appointed Odessa governor by Poroshenko, is wanted in Georgia on charges of embezzlement, abuse of power and politically-motivated attacks.
You can share this story on social media: